Flavorful and Delicious Red Wine Slow Cooker Short Rib Recipe
Slow-Cooked Short Ribs Are Perfect Valentine's Day Dinner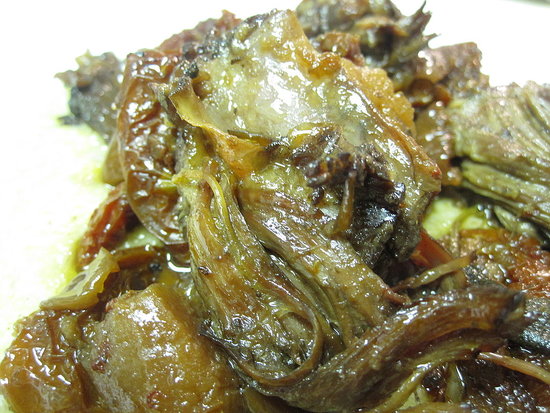 Imagine a Valentine's Day where you roll out of bed, enjoy a leisurely brunch at your favorite breakfast spot, and spend the day out (hiking, or seeing a movie, or playing in the snow) with loved ones. Then you come home to a house wafting with an enticing aroma, and a dinner that's ready in seconds. It's totally possible with this amazing slow cooker short rib recipe.
It's the best kind of crockpot meal: All you have to do is dump everything into a slow cooker and turn it on. Hours later your kitchen will smell wonderful. The tender meat falls right off the bone, the beef melts in your mouth, and the veggies are rich and flavorful.
Although it's a hearty and rustic dish, there's something so casual and comforting that it's easy to feel romantic — especially when dining by candlelight! Serve over egg noodles, mashed potatoes, rice, or polenta. Are you intrigued? Get the recipe now.
Ingredients
2 medium onions, cut into wedges
4 garlic cloves, peeled and crushed
6 small carrots, peeled and cut in half crosswise
2 small parsnips, peeled and cut in quarters crosswise
1 ounce dried porcini mushrooms, rinsed
1 8.5-ounce jar sun-dried tomatoes, drained and cut in half lengthwise
1 small bunch sage
5 pounds short ribs
kosher salt and pepper
1 bottle red wine
1 loaf crusty bread
Directions
In the bowl of a slow cooker, combine the onions, garlic, carrots, parsnips, mushrooms, tomatoes, and sage.
Season the short ribs with 1 1/2 teaspoons salt and 3/4 teaspoon pepper and nestle them among the vegetables. Add the wine.
Set the slow cooker to high and cook until the meat is tender and falls from the bones, 8-9 hours.
Using a large spoon, skim off the excess fat and discard. Divide the ribs and vegetables among individual bowls and spoon the sauce over the top. Serve with the crusty bread.
Serves 6-8.
Information
Category

Main Dishes, Beef

Cuisine

Italian