Fluke Crudo Recipe
Fluke Crudo With Cancale Salt and Bergamot Vinaigrette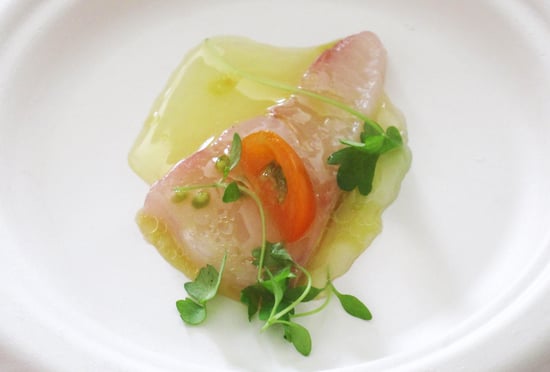 Fluke Crudo With Cancale Salt and Bergamot Vinaigrette
From Lior Lev Sercarz of La Boîte á Epice
Notes
The bergamot vinaigrette used here can also be utilized on salads and raw vegetables.
Ingredients
2 tablespoons bergamot or lemon oil
4 tablespoons extra-virgin olive oil
2 tablespoons blood orange juice reduction (1 cup of blood orange juice, reduced to 2 tablespoons)
1 tablespoon lemon juice
1 tablespoon garlic, chopped
1 tablespoon shallots, chopped
1 sprig thyme, leaves only, chopped
3/4 pound fluke fillet, skinned
1 avocado, peeled and diced into 1/4-inch cubes
3 French breakfast radishes, washed and thinly sliced
1/4 cup La Boîte Cancale N. 11 spice blend
1/4 cup cilantro leaves, coarsely chopped
Freshly-ground black pepper, to taste
Directions
In a medium-sized bowl, whisk together the bergamot oil, olive oil, reduced blood orange juice, lemon juice, garlic, shallots, and thyme.
Using a sharp knife, slice the fluke fillets into 1/8 inch slices. Divide the fluke slices in four and place them overlapping each other onto four serving plates.
Garnish each plate with the avocado dice and radish slices.
Drizzle the bergamot vinaigrette over the fish. Sprinkle the fish with the Cancale salt blend, cilantro, and black pepper.
Serves 4.
Information
Category

Seafood, Appetizers

Cuisine

North American