Food Network Recipe For Grilled Steak and Eggs With Beer and Molasses
Sunday BBQ: Grilled Steak and Eggs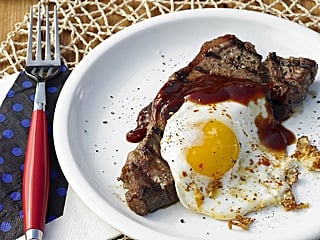 I'm not much of a steak and eggs girl in the morning, but dinner is a different story entirely. Earlier this week, I laid eyes on this recipe for grilled steak and eggs, and tonight I'm going to live out my dream of making this hearty, guy-friendly supper. New York Strip and runny eggs are both wonderful alone, but when they come together with a tangy, smoky barbecue sauce, the sum is greater than all its parts.
When I serve this, I'll also be sure to have some chunks of crusty bread handy to scoop up all the sauce, and a salad for some much-needed crunch. See the recipe when you read more.
Grilled Steak and Eggs With Beer and Molasses
Ingredients
Sauce:
1-1/2 teaspoons unsalted butter
1/2 medium onion, finely diced
1 clove garlic, minced
1 cup ketchup
1/2 cup molasses
1/2 cup apple cider
2 tablespoons sugar
1/2 cup lager-style beer
1-1/2 teaspoons yellow mustard
2 teaspoons lemon juice
1-1/2 teaspoons Worcestershire sauce
1-1/2 teaspoons cayenne pepper
1-1/2 teaspoons paprika
Steak and eggs:
2 1-pound strip steaks (1/2 inch thick)
Salt and freshly ground pepper
1 tablespoon vegetable oil
4 grilled eggs (recipe below)
Directions
Make the sauce: In a medium saucepan over medium heat, melt the butter. Add the onion and garlic and saute until softened, about 3 minutes. Add the rest of the sauce ingredients; bring to a boil, then simmer until the sauce is reduced to 2 cups, about 30 minutes.
Meanwhile, preheat a grill to medium-high. Season the steaks with salt and pepper and rub with the oil. Grill for 3 to 5 minutes per side for medium-rare. Let rest for 10 minutes before slicing.
Make the grilled eggs: Place a cast-iron skillet on the grill; add butter, oil or bacon drippings. Crack in eggs and season to taste (the Neelys use a blend of paprika, sugar and onion powder, plus salt and pepper). Cook until the edges are crisp but the yolks are still runny, 2-3 minutes.
Slice steak and serve with the beer-molasses sauce and the grilled eggs.
Serves 4.
Information
Category

Main Dishes, Beef

Cuisine

North American