Food Review: Blue Diamond Baked Nut Chips
Taste Test: Blue Diamond Baked Nut Chips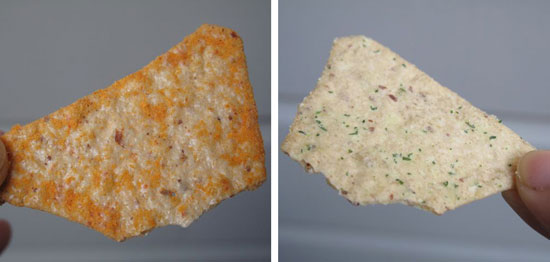 We've been confident that potato chip alternatives are soon to be a huge snack food trend, and sure enough, nearby grocery stores are have finally jumped on the black bean, lentil, and kale chip bandwagon. This weekend I spotted something new that I'd never seen before: Baked Nut Chips, by Blue Diamond Growers, the makers of those tasty smokehouse- and wasabi-flavored almonds.
Just looking at the bag made me feel healthy: "Irresistible snacking! Smart eating!" it declared. "Contains 20 grams of whole grain from brown rice, and 81 percent less saturated fat than potato chips." These crisps, made from almonds and brown rice, are also a suitable alternative to anyone allergic to wheat or gluten. Curious to try a chip made of nuts, I picked up two bags. They sounded full of promise, but were the puffy chip bags full of goodness — or disappointment? The moment of truth, when you read on.
Baked Nut Chips come in three flavors: Nacho, Sour Cream & Chive, and Sea Salt. The third flavor wasn't available, but I did try the first two. For a chip made of nuts, they taste remarkably like toasted rice. A quick ingredient scan revealed that the first ingredient on the back was, in fact, whole grain brown rice flour. The net-net? Think Japanese rice crackers shaped like chips and topped with cheese and herb, rather than tamari, as flavoring.
Our tasters had a range of things to say about these chips. Of the varieties, we all agreed that the Sour Cream & Chive flavor was substantially better than its Nacho counterpart, thanks to its authentic sour cream taste and lingering onion flavor. But as for the chips? "I don't like them at all," Katie declared. "A strange choice," another remarked. Michele of FitSugar, who's gluten-sensitive, simply put it this way: "I'd rather have potato chips."
While I'd been expecting something entirely different, I personally didn't find them half bad; if I were gluten-intolerant and craving Doritos, these would be the closest stand-in. Have you tried these chips?