Food Review: Pepperidge Farm Milano Melts
Taste Test: Pepperidge Farm Milano Melts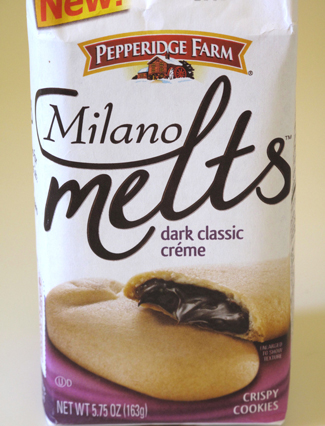 Like Oreos or Nutter Butters, Milano cookies — Pepperidge Farm's irresistible, oblong, chocolate-ganache-filled biscuits — are a piece of American nostalgia that appeal to both children and adults alike, ourselves included. Despite our attempts to cut back on the cookies, we've found ourselves both sampling new flavors and attempting to make our own version of Milanos at home.
It comes as no surprise, then, that we sought out Milano Melts, the new line of Milano cookies that are filled with a "rich, velvety chocolate creme." Did they live up to their enticing description, or did our enthusiasm for this cookie quickly melt away? See for yourself when you read ahead.
Milano Melts are available in three flavors: Dark Classic Creme, Chocolate Dark Classic Creme, and Chocolate Creme, but I was only able to locate the first, a crispy vanilla cookie with a creamy dark chocolate filling. At first glance, they're slightly smaller than their original Milano counterparts, and look merely like ovaloid biscuits; it's not until you bite into one that the cookies reveal their oozy chocolate center. I loved the explosion of the filling, which had the consistency of a perfectly melted chocolate chip — only at room temperature.
At the same time, I found myself disappointed by the biscuit itself, which was dry, dense, and brittle — nothing like the weightless, melt-in-your mouth biscuits come to be expected of Milanos. That's when I realized: when it comes to Milano cookies, chocolate is but an accessory to the light, sandy biscuit, and this newfangled version simply didn't cut it. As one taster put it: "If it ain't broke, don't fix it!"
If Pepperidge Farm could combine the filling of its Milano Melts with the traditional Milano biscuit, then it'd be on to something. In the meantime, I'll go back to eating my classic Milanos. Have you tried these?