Food Shows Nominated For 2011 Primetime Emmy Awards
Top Chef, No Reservations Among 2011 Emmy Nominations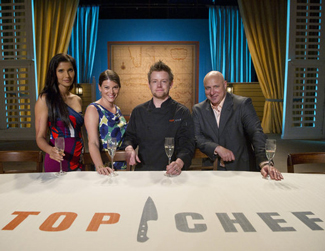 The Academy of Television Arts & Sciences announced its 2011 nominations for Primetime Emmy Awards this morning, and, as usual, a number of food programs were included.
On the exhaustive list of Emmy nominees were Top Chef for Outstanding Reality Competition (among other nominations); and Anthony Bourdain: No Reservations for Outstanding Nonfiction Series, with a number of additional nods for the series's post-earthquake Haiti episode.
Top Chef and No Reservations were in good company: McDonald's, also a nominee, has been acknowledged in the Outstanding Commercial category. If you were in charge of the awards, which TV shows would you nominate?