Food & Wine Announces 2010's Best New Chefs
Meet the 2010 Best New Chefs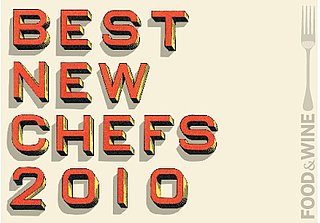 Over the past couple of days, the staff behind my favorite food magazine, Food & Wine, has been building excitement toward their annual announcement of the Best New Chefs. Editor-in-chief Dana Cowin tweeted 10 clues that alluded to each chef's restaurant and this morning, the glossy launched an iPhone application devoted to featuring past Best New Chefs.
Later tonight, in New York City, there is a glitzy party celebrating the 10 chefs! Receiving the title of Food & Wine Best New Chef is a prestigious one that's similar to winning a James Beard Award, and everyone from Thomas Keller to Michael Schlow to David Chang was, at one point, a Best New Chef. Find out who this year's lucky 10 are after the break.


I'm always excited when local chefs get recognition and it's high time I head over to Oakland to check out Syhabout's Commis. Have you eaten at any of the Best New Chefs' restaurants?