Foods to Zest Using a Microplane
8 Foods to Zest Using a Microplane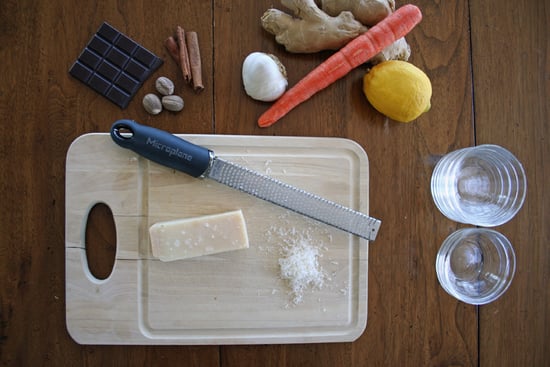 One of the most essential grating tools to have in the kitchen is the Classic Microplane ($15), yet most people don't realize all of the fruits, vegetables, cheeses, and spices that can be grated — all using only one tool. From hard cheeses to spices to even fruit, here's a comprehensive list of foods that can be transformed, thanks to the humble Microplane.
Hard cheeses: Turn hard, dry cheeses like parmesan-reggiano, asiago, and pecorino romano into fluffy, pillowy, snow-like flakes.
Root vegetables: Beets, carrots, and potatoes are just a few root vegetables to start zesting atop salads, in baked goods, or even on precious amuse-bouches.
Garlic: Nancy Silverton shared her brilliant trick: zesting garlic rather than chopping it.
Find out more foods to zest.
Chocolate: Produce perfect, even flakes to decorate baked goods like cakes, cupcakes, and cheesecake.
Ginger: Avoid hairy, stringy particles by zesting ginger.
Whole Spices: Transform large spices like cinnamon and nutmeg into powdered form.
Citrus: Oranges, lemons, and limes can be zested quickly and effortlessly with a Microplane.
Coconut: Nothing tastes better than fresh grated coconut, toasted and pressed into the rim of a cake, atop a pie, or even baked in cookies.
Do you have a favorite food to zest that's not on this list? Share it with us below.