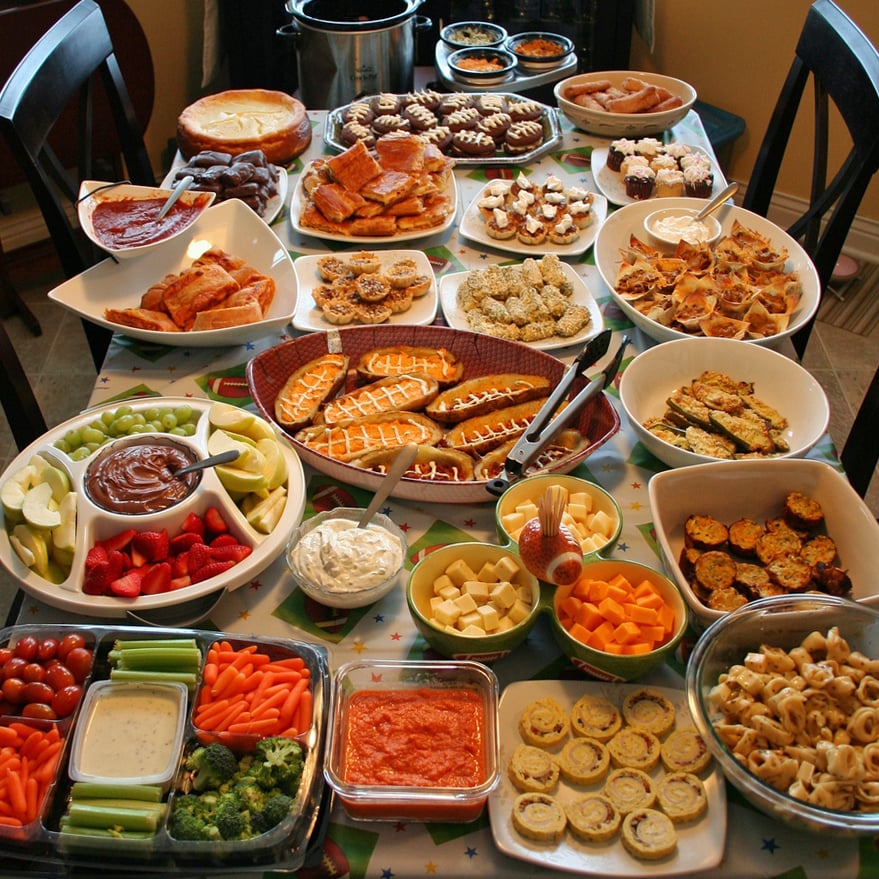 Football season kicks off tomorrow, and while there are bound to be plenty of upsets this year, there's one area where you can make sure nothing goes wrong: the snack-time spread. As you gather with friends and family to cheer on your NFL football team of choice, you'll want to make sure everyone's well stocked on game-day provisions.
To help you out with your sports-day snack spread, we enlisted the help of Rocco DiSpirito, Dominique Ansel, and Mary Giuliani. They shared their winning tips for game-time entertaining and eating in style.
Raise the Stakes With Winning Food
Buffalo chicken dogs: "I came up with what I like to call a 'buffalo chicken dog,'" Giuliani told us. "I grill up chicken sausages and top them off with buffalo sauce, blue cheese, and coleslaw. The bun helps with the messy factor, as opposed to the usual buffalo wings doused in sauce. If I serve those, I'm just going to get my white rug spilled on!"
Pigs in a blanket: "Hot dogs are a must at tailgating parties but pack so many calories," says Now Eat This! host DiSpirito. To lighten things up, he replaces traditional cocktail sausages with reduced-fat ones and crescent-roll dough with flakier, lighter phyllo dough.
Mac-and-cheese bites: For something totally different, Giuliani suggests baking your favorite macaroni and cheese recipe in a minimuffin tin to create minimacs. Then offer a wide range of toppings, from chopped bacon to onions, chives, and sour cream.
Potato chips: Ansel admits he has a soft spot for homemade french fries at sporting events. The problem? "The thing about tailgating is [you want] to enjoy the game, not to be in the kitchen monitoring your oil for the perfect fries." For this reason, he recommends serving potato chips instead.
Lots of beer options: Offer plenty of beer options, Giuliani suggests, highlighting craft brews. But serve them in miniature beer mugs; that way, guests can try everything in the cooler before committing to drinking a certain bottle.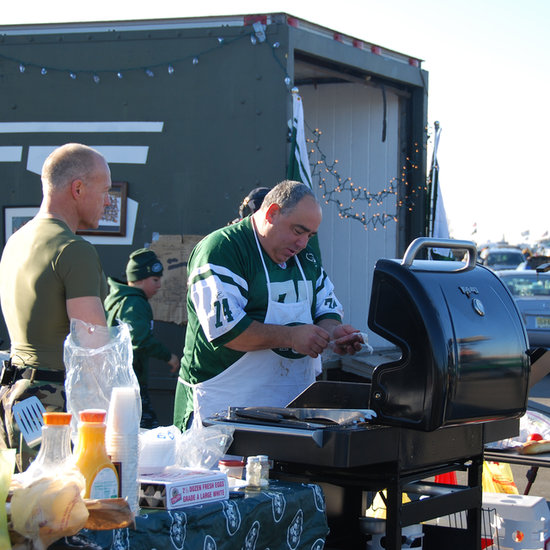 Take Note of These Grilling Tips
Coordinate with guests ahead of time: Touch base with your guests ahead of time to find out what they might bring. "That way, you don't end up with lots of repeats of one item and not enough of the other," Ansel recommends.
Do the cooking prep beforehand: "I like to get any chopping of veggies done ahead of time and just store it in Ziploc bags in my fridge to take out once the party starts," Giuliani says. The same, of course, would work for dips.
That being said, don't do everything beforehand: DiSpirito waits until guests have settled in to start grilling: "Fire up the grill when everyone's there. It's part of the fun!"
Choose your table wisely: "I always prefer a long rectangular table done buffet style — from lighter fare to heavier fare and desserts at the end — rather than a big round table, where everything gets jumbled together," Ansel adds.
Bring the playing field to your table: For those hosting at home, Giuliani suggests adding football flair to the table by locating inexpensive grass mats at the home improvement store and using them as tablecloths. "Or, if you're feeling fancy, you can cut them into individual placemats for each food station," she suggests.
Double-check that you're well equipped: "Just make sure you've got lots of plates and cups so all your friends can indulge and go back for seconds," says DiSpirito.
Slate board strategy? "I'm a huge fan of slate slabs that are used as cheese boards; you can write fun things on them with chalk to resemble football strategy notes that in fact tell your friends how to eat the food you've made for them," Giuliani says.