Fourth of July Barbecue Menu and Recipes
Come Party With Me: Fourth of July — Menu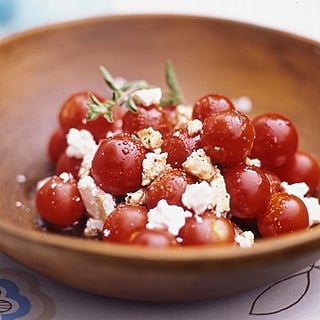 The Fourth of July falls on a Sunday this year, and that means there's no excuse not to throw a party! Gather up a group of friends, light the barbecue, and prepare a delicious feast of eats. Start things off with two finger food favorites: lemon-herb grilled shrimp and grilled jalapeño poppers. Since no one can ever decide between chicken or ribs, please everyone and offer barbecued ribs and chicken with a tangy homemade sauce as the main course. Corn on the cob with parmesan butter and tomato and feta salad are two easy, but scrumptious side dishes.
To take a look at these classic recipes that are perfect for your all-American celebration, keep reading.
Ingredients
1 1/2 pounds large unpeeled shrimp
1/2 cup fresh lemon juice (from 3 lemons)
1/2 cup extra-virgin olive oil, plus more for grill
2 tablespoons minced garlic
1 tablespoon chopped fresh rosemary
1 tablespoon chopped fresh thyme
Coarse salt and ground pepper
Directions
Using a pair of kitchen shears or a paring knife, cut through shell along the back of each shrimp. Devein shrimp, leaving shells on.
In a small bowl, combine lemon juice, oil, garlic, rosemary, thyme, 1 teaspoon salt, and 1/2 teaspoon pepper. Reserve 6 tablespoons lemon mixture for serving. Place shrimp and remaining lemon mixture in a resealable plastic bag; seal bag and shake to coat shrimp. Refrigerate 1 hour.
Heat grill or grill pan to high. Clean and oil grill. Remove shrimp from marinade, wiping off excess. Grill until opaque throughout, 2 to 3 minutes per side. Serve shrimp drizzled with reserved lemon mixture.
Serves 4.
Information
Category

Seafood, Appetizers

Cuisine

North American