Free Waffle Fries Today, March 4, 2011, at all Chick-fil-A Locations
Chick-fil-A and Heinz Ketchup Team Up Today to Offer Free Fries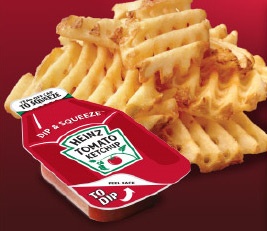 Last year, Heinz unveiled a newly redesigned packet that allowed condiment lovers to choose between squeezing or dipping when it came to enjoying ketchup. Now, Heinz's dual-function ketchup packet has partnered with Chick-fil-A to celebrate with Free FryDay.
From 2 p.m. to 4 p.m. local time today, ask for Heinz's new Dip & Squeeze packet, and you'll receive a free medium order of Chick-fil-A waffle fries (one per customer).
The two brands are encouraging fans to follow both Heinz Ketchup and Chick-fil-A on Facebook for more prizes. I rarely turn down anything that's free, but this does seem like a timely promotion, especially after all the heat Chick-fil-A's been getting for taking a conservative stance on certain social issues. Will you partake in it?