French 75 Cocktail Recipe For Bastille Day
Happy Hour: French 75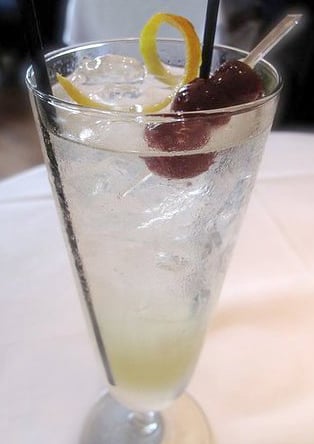 Tomorrow welcomes Bastille Day, the French national holiday that commemorates the beginning of the French Revolution. It's the perfect time to get cozy on the patio of a little bistro and make some celebratory noise. In the past, I've been inclined to settle in with a big beer and some moules frites, but this week, I've got a hankering for a French 75.
If you've never had one, a French 75 combines bubbly with the bright flavors of citrus and gin for a slightly sweet but very clean drink. My favorite version comes from San Francisco bar star Jeff Hollinger, who likes to garnish his drink with house-made brandied cherries. Drinking one makes me feel très sophistiqué, like a true Parisian. Get the recipe.

Ingredients
1/2 ounce simple syrup
1/2 ounce fresh lemon juice
1-1/2 ounces gin
Champagne
3 brandied cherries, for garnish (recipe follows)
Lemon twist, for garnish
Directions
In an ice-filled pilsner or collins glass, combine the syrup, lemon juice, and gin. Stir to mix.
Fill the glass to the top with Champagne and garnish with cherries and a lemon twist.
Makes one drink.
Information
Category

Drinks, Cocktails

Cuisine

French
Ingredients
6 pounds dark, sweet cherries
3/4 cup sugar
1 cup water
1/4 cup fresh lemon juice
2 cinnamon sticks
1 1/4 cups brandy
Directions
Wash and pit the cherries. Combine the sugar, water, lemon juice, and cinnamon in a large saucepan.
Bring to a boil and reduce heat to medium low. Add the cherries and simmer for five minutes.
Remove from the heat, remove the cinnamon sticks, and stir in the brandy.
Transfer the cherries to a jar and refrigerate for up to two weeks.
Makes six pints.
Information
Category

Other, Condiments/Sauces

Cuisine

North American