French Toast Strata With Chicken Sausage Recipe
A French Toast Strata Is a Savory-Sweet Morning Treat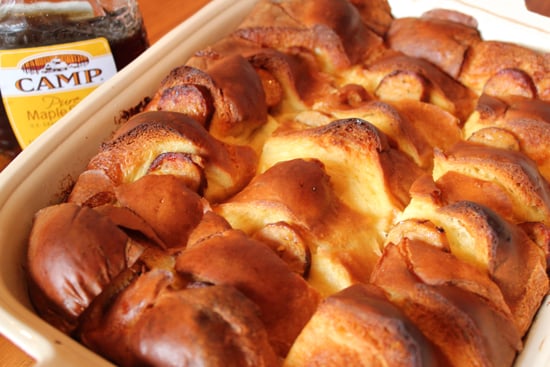 Weekend brunch is one meal that I typically prefer to eat out. Beyond the fact that I get my Bellini served to me in an actual champagne flute, it's also such a hassle to pull together something even mildly elegant when I roll out of bed late on a Sunday morning. A hassle, that is, until I met the breakfast strata.
The casserole of breakfast fare, the strata layers your favorite early-bird foods in one delightful dish. Normally, it includes eggs, bread, some kind of cured meat, and often a sautéed leafy green for a savory hangover fix. But this weekend, I also had a hankering for something sweet and came across this french toast strata recipe that calls upon soft challah bread, maple syrup, milk, and eggs, punctuated by surprise ingredient chicken sausage. It's a light, fluffy take on the breakfast sweet that's like no french toast I've ever tasted.
And the best part is that you can do all the prep work the night before, so all that's left to do when you stumble out of bed is preheat, bake, and eat. Which leaves ample time to pour your own Bellini. Read on for the recipe.
Ingredients
Room-temperature butter, for greasing the baking dish
1 loaf (3/4 pound) brioche or challah, cut into 2-inch-thick slices and halved crosswise
4 fully cooked chicken sausages (about 12 ounces total), thinly sliced
8 large eggs
2 1/2 cups whole milk
1/2 cup pure maple syrup, plus more for serving
1 teaspoon coarse salt
Directions
Butter a two-quart shallow baking dish; arrange bread slices in dish, overlapping slightly. Place sausage slices between bread slices.
In a large bowl, whisk together eggs, milk, maple syrup, and salt until combined. Pour egg mixture over bread and sausage, pressing down on the bread to submerge it. Cover dish tightly with plastic wrap; refrigerate at least two hours (or up to overnight).
Preheat the oven to 350ºF. Remove the plastic wrap and place the baking dish on a rimmed baking sheet. Bake until the strata is puffed and set in center, about an hour and a half (tent with aluminum foil if it's browning too quickly). Let cool 10 minutes.
Serves eight.
Information
Category

Breakfast/Brunch, Casseroles

Cuisine

North American