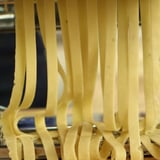 Ingredients
3 large eggs
1/8 teaspoon salt
1/8 teaspoon ground black pepper
1/2 teaspoon olive oil
1 cup all-purpose flour
Directions
Add the eggs, salt, pepper, and olive oil to a food processor fit with the blade attachment, and pulse a few times.
Add half the flour, and pulse until the eggs absorb it and you have a semithick paste. Add the rest of the flour, and allow the blade to rotate continuously. When the dough is ready, you should see a ball-shaped mass of flour and eggs bouncing around the canister. If the dough is still too wet to the touch, add an extra tablespoon of flour. If it's a bit dry, then add a little water as needed.
Take the pasta out and roll/shape according to the directions of the recipe you are making. If you're saving it for later, then wrap it in plastic wrap, and place it in the fridge for up to six days.
Information
Category

Pasta, Main Dishes

Cuisine

North American

Yield

2-4 servings