Fresh Pasta Recipe
Homemade Pasta Is Fast and Easy With Fabio Viviani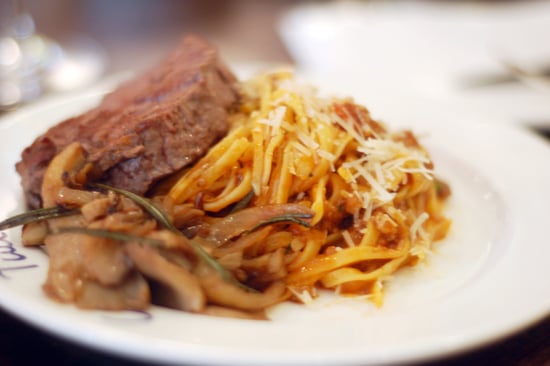 While in Miami, we had the chance to nurse our hangovers, Italian style. Chef Fabio Viviani's Bertolli demo was filled with laughs, mispronunciations, and homemade, fresh fettuccine. All in all, it was great fun, and we were surprised to learn that making pasta at home doesn't have to be the headache that it's made out to be. With a food processor, a pasta press, and a few staple ingredients, you can have fresh pasta in a matter of minutes.
A few helpful tips that Fabio made sure to stress: an "Italian tablespoon" is not the same thing as an American tablespoon (see above photo), quality products and ingredients shouldn't be messed with, and that extra-virgin olive oil shouldn't be used in high-heat situations.
If you're up for a pasta challenge, find the recipe when you keep reading.
Ingredients
12 heaping "Italian" tablespoons of flour
4 eggs
Salt and pepper
1 tablespoon extra-virgin olive oil
Directions
Quickly beat eggs in the food processor with a pinch of salt and pepper.
Add heaping "Italian" tablespoons of flour and olive oil to the food processor and mix until the dough begins to form into a ball.
Pass dough through the pasta press twice until 1/4 inch thick. Roll the dough onto itself into a burrito shape and chop width-wise to create fettuccine.
Add the fettuccine to boiling water over high heat, stirring occasionally until it floats, approximately five to eight minutes.
Serves four.
Information
Category

Main Dishes

Cuisine

North American