Fried Chicken Tips From Bobby Flay
Bobby's 6 Steps For Perfect Fried Chicken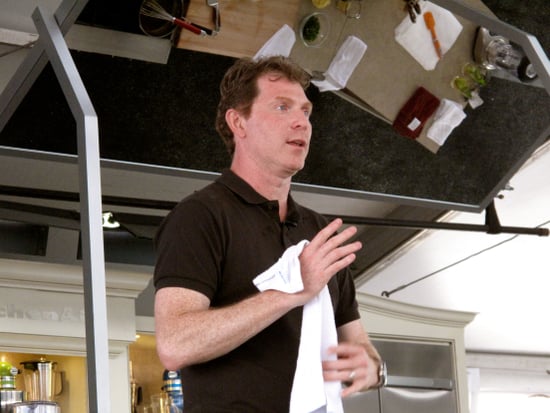 Despite his drunken antics at SOBEFest, Bobby Flay still managed to provide us with some useful tips on frying chicken, a dish we've always wanted to tackle at home but have frankly been a bit scared to try.
Thanks to the queen of Southern cuisine's diabetes drama, lowcountry staples like fried chicken might have gotten a bit of a bad rap lately, but Flay's not hearing any of it. "This whole thing about baking fried chicken: why?" he asked the audience. "Everything in moderation, yeah — but you have to go all the way."
According to the chef, there are three keys to good fried chicken: crisp texture, a golden brown color, and a just-cooked interior. Learn Bobby's best bird-battering and frying tips to master these three aspects when you read on ahead.
Be sure to cut up chicken into pieces when frying. The more consistently sized the pieces are, the more likely they'll fry up in the same amount of time. That said, some pieces will cook faster than others: "the thigh and leg will take the longest, while the chicken breast will cook the shortest," Flay explained.
Try Flay's double-dipping method. "Because the best part of fried chicken is its crispiness, I like to double-dip the batter," he explained. He dips raw chicken in flour, then in buttermilk (which lends tang and acidity), then flour again.
Gauge the temperature right. Flay's ideal temperature for frying chicken is 360ºF, but he recommends starting the oil at a higher temperature, like 375ºF, then turning the heat down to 350ºF once the chicken goes in. The chilled temperature of the chicken will lower the temperature of the hot oil and set it up just perfectly to reach 360ºF. Pull the chicken out once it hits 165ºF in the center.
Season liberally — and at the right time. You've got to add salt and pepper to the chicken while it's hot out of the oil; this helps the seasonings adhere to the batter.
Know the right way to reheat chicken. It's actually easy to fry chicken ahead of time; the key is knowing the proper way to warm it back up. Flay likes to pop it in the oven for recrisping right before guests arrive.
Serve it with love! Obviously, fried chicken's gotta be served the way it's done in the South: on a heaping platter. "I love to serve things family-style," he emphasized.
Do you cook fried chicken at home? What are your secrets?