Fruit and Oatmeal Bars White House Recipe
Fruit and Granola Bars Are a Snack Worth Looking Forward To
Maybe it's due to the fact that I grew up overdosing on them, but as an adult, I've never been much of a granola bar fan. That is, until I made these granola bars.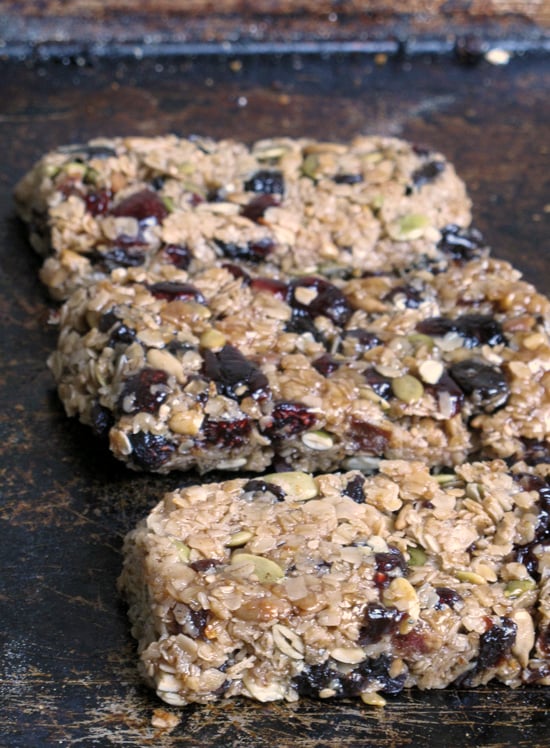 I don't know how else to explain this discrepancy, except to say that homemade granola bars, not unlike homemade granola, taste utterly different from the conventional kind. Unlike the store-bought variety, these bars are pliable on the tooth, imbued with Indian spices like cardamom and cinnamon, and filled to the gills with nothing but toasted oats, seeds, and dried fruit.
This recipe, which comes courtesy of Michelle Obama and the White House kitchen, is simple enough. Still, it takes some finesse to nail down the last cutting bit without making a huge mess. The key, I discovered, is to let them cool completely (this takes hours), then cut them using a serrated knife that's dipped in hot water in between slicings. But the end result, I promise, is completely worth the effort. Keep reading to get the granola bar recipe.
White House Fruit and Oatmeal Bars
From Healthy Recipes From the White House to You
Ingredients
6 tablespoons grape seed oil, or other neutral oil, plus extra for brushing the pan
2 cups quick oats
1/2 cup mixed seeds (such as pumpkin seeds, sunflower seeds, and sesame seeds)
1/2 cup honey
1/3 cup dark brown sugar
1/3 cup pure maple syrup
Pinch of salt
1 1/2 cups mixed dried fruit (such as cranberries, raisins, cherries, apricots, papaya, and pineapple — use at least three kinds and cut large fruits into dime-sized pieces)
1 teaspoon ground cardamom or cinnamon
Directions
Heat the oven to 350ºF. Line a nine-by-nine-inch square baking pan with parchment paper or foil, letting a few inches hang over the sides of the pan. Brush with oil.
Spread the oats and seeds on another baking pan and toast in the oven until they're golden and fragrant, about six to eight minutes, shaking the pan once during toasting.
In a saucepan, combine the oil, honey, brown sugar, maple syrup, and salt. Stir over medium heat until smooth and hot.
Transfer the toasted oats and seeds, dried fruit, and cardamom and/or cinnamon to a large mixing bowl. Pour the hot sugar mixture over the oats, seeds, and dried fruit, and stir until well combined.
While the mixture is warm, transfer it to the prepared pan, pressing it into the pan easily with an offset spatula. Bake until brown, 25 to 30 minutes.
Transfer the pan to a wire rack and allow it to cool completely.
Using the overhanging foil or parchment paper, lift the fruit and oat mixture out of the pan and place on a work surface. Cut into 1-1/2-inch-by-3-inch bars.
Serves nine.
Information
Category

Snacks, Nuts

Cuisine

North American
Love this recipe? Check out more recipes from Michelle Obama and the White House.