Fun and Easy Breakfast Recipe For French Toast Skewers
Berry Tempting: French Toast Skewers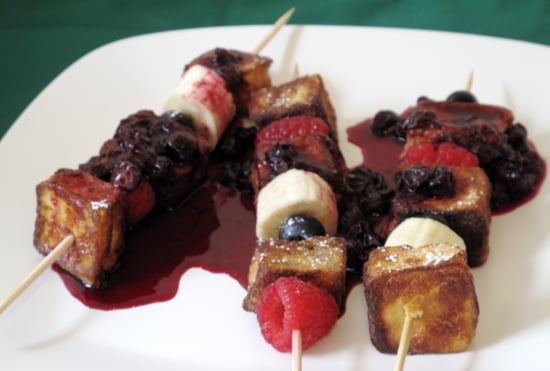 When I said my new favorite basic is blueberry sauce, I was definitely not kidding. In addition to using the 15-minute compote in a lavender-vodka martini, I also took the liberty of making French toast on skewers for weekend brunch, and using the sauce in lieu of maple syrup.
I love this dish because it's fun to make and fun to eat, for kids and adults alike. Who can resist bite-sized blocks of breakfasty goodness, lovingly browned to perfection on all six sides? The answer is nobody, especially when it's laced together with wholesome blueberries, raspberries, and bananas, topped with a sprinkle of sugar, and drizzled with the incredible berry compote. For a fun weekend provision to make with the whole fam, read on.
Ingredients
8 large eggs, lightly beaten
2/3 cup 1% buttermilk
Pinch of salt
1/4 teaspoon vanilla extract
1 loaf (one-pound) unsliced dense white bread (such as pullman), crusts removed and cut into 1-inch cubes
4 tablespoons unsalted butter
1/2 pint fresh blueberries
1/2 pint fresh raspberries
2 bananas, sliced
1 teaspoon confectioner's sugar
Blueberry sauce, for serving
Directions
Preheat oven to 250 degrees. Place a rimmed baking sheet in the oven to warm. In a medium bowl, whisk together eggs, buttermilk, salt, and vanilla. Stir in bread.
In a large saute pan set over medium heat, melt 2 tablespoons butter. Place half of the bread mixture in pan; cook, turning occasionally with tongs, until browned on all sides. To keep warm, transfer to the oven. Cook remaining bread in the remaining 2 tablespoons butter as before.
Thread bread cubes onto skewers alternating with blueberries, raspberries, and banana slices. Dust skewers lightly with confectioner's sugar. Serve drizzled with blueberry syrup.
Serves 4.
Information
Category

Breakfast/Brunch, French Toast

Cuisine

North American