Fusion Slider Ideas
Fuse Classic Sliders With International Flavors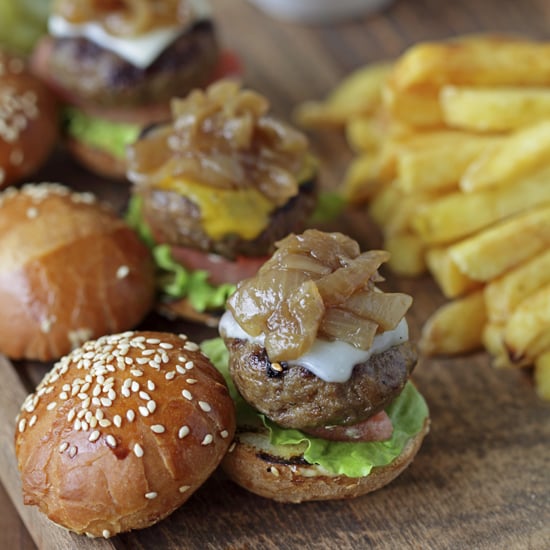 Fusion's been done with other iconic handheld foods like tacos and burritos, and now, internationally inspired sliders are all the rage. Take the classic American concept and add in combo toppings and spices with inspiration from Asian, French, Indian, Mexican, or Texan cuisine. See our fusion slider ideas, and you'll be on your way to more worldly sliders in no time.
Vietnamese: Slather rolls with a combo of sriracha and mayo, then top with grilled beef, pork, or tofu patties and thin slices of jalapeño, pickled daikon, and pickled carrot. Spear with a toothpick to hold the ingredients together.
French: For beef patties, slice round mini baguettes in half; moisten with caramelized onions. Top the beef with semisoft, meltable French brie, blue, and Gruyère cheese. Alternatively, for a lighter bite, top seared ahi tuna with Niçoise salad fixings like sliced red onion, sliced hard-boiled eggs, and tomatoes.
Indian: Make chickpea patties seasoned with traditional Indian spices like curry, turmeric, and garam masala; sandwich between Indian naan or a standard white bun. Top with spinach leaves and a dollop of mango chutney.
Mexican: Mix taco seasoning into ground beef before forming into rounds; top with avocado, salsa, pickled vegetables, sliced jalapeño, and shredded iceberg lettuce, then finish with a standard white bun.
Texan: Make mini barbecue sliders by subbing in pulled pork or beef brisket for a hamburger patty. Slather a potato bun with the best barbecue sauce you have, and top it with cabbage coleslaw.
Got any other creative slider ideas? Share them with us below.