When judging Top Chef, Gail Simmons [1] isn't afraid to express her opinion. So it's only natural that Simmons, who also works as special projects director [2] at Food & Wine magazine, has strong opinions about weddings. She watched all of her friends walk down the aisle before she finally got married last August, and has plenty to say about planning the perfect big day. Recently I spoke with Gail about all things wedding [3]. Here, you'll find details from Gail's Summer soirée (she didn't have a cake!) and learn her tips for a fabulous wedding reception.
Source [4]
Get a Wedding Planner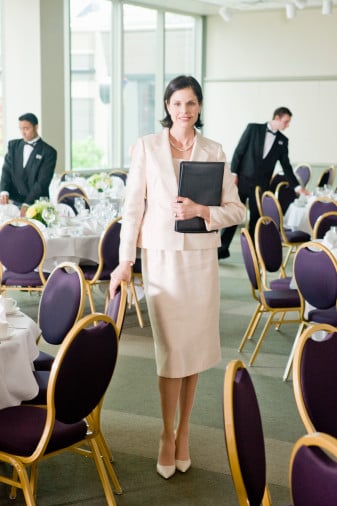 Although it depends on your availability and the size of your reception, if you are having the event at a place that doesn't host weddings, consider getting a wedding planner. Gail's venue was "virtually an empty shell. It was an enormous amount of work. To bring in every fork, every knife. With Top Chef filming my personal schedule was up in the air, so it was great that our wedding planner could do a lot of the stuff. Planners are wonderful because they know the vendors and know how to talk down and negotiate prices." Gail recommends finding a planner you like and get along with.
Enjoy the Bridal Shower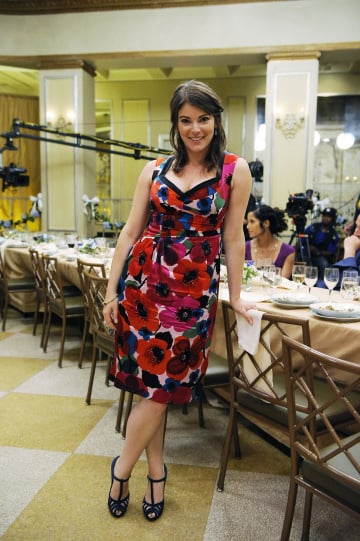 When Bravo suggested Simmons host an on-air bridal shower [5], her first thought was "that's crazy." While she attended a private affair with close girlfriends, Gail decided to just enjoy her televised shower. "It was the most fun, super emotional event. It was actually two weeks before the wedding. It was 40 of my favorite women sitting around the table with me. I got to share a piece of my life with them. So often I can't tell anyone anything about filming that it was an honor to have them finally on the inside with me."
Source [6]
Have Fun With the Seating Chart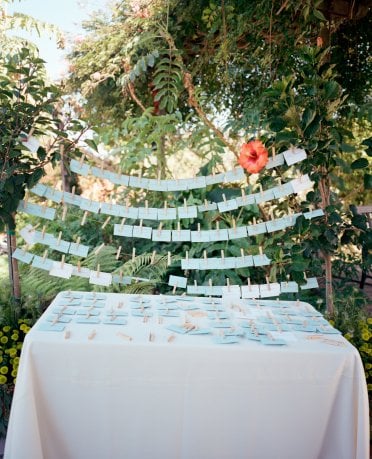 "I loved making the seating plan!" Although Gail's fiance was stressed by the thought of bringing 170 people from different groups of friends and family together, Gail explained that "we're all adults. Everyone at our wedding likes us and we like them, so everyone will get along." She seated each person with at least two people they knew and kept spouses together.
She also played matchmaker: "I seated a pregnant co-worker with a friend who's due at the same time. I thought they could have something in common to talk about. It's not like I put all the pregnant people at one table, but you know . . . I seated a couple of chefs next to a cookbook author, that sort of thing."
Incorporate Color Into the Meal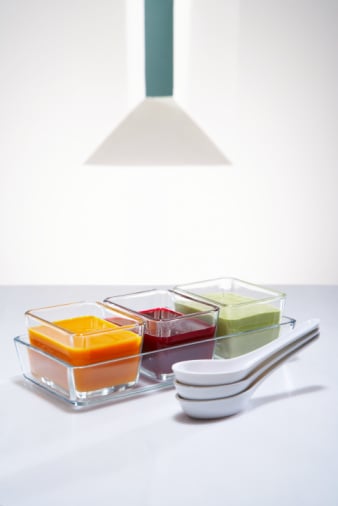 Gail used color to create a stunningly visual first course. She served three kinds (including a corn puree and tomato gazpacho) of chilled soup and alternated the soups along the table to make a meal that was as delicious to the eye as it was to the stomach.
Use Food to Encourage Mingling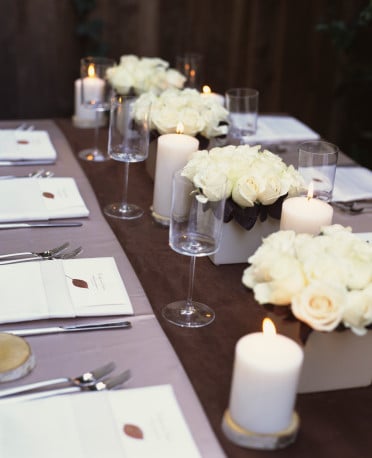 Gail wanted her wedding to have a sense of community. To encourage conversation and mingling among guests, the second course — six Summer salads, including crudites, ratatouille, artichoke basil, candied baby beet, and heirloom tomato salads — were served family style on large platters. Each group of six guests had to share the salads.
Instead of the standard circular dining table, Gail sat her guests at several long rectangular tables. According to Simmons, "at a round table you end up only talking to the people on your right and left. But at a rectangular table, since the distance across is shorter, you can talk to the people across from you."
Serve a Seasonal, Local Menu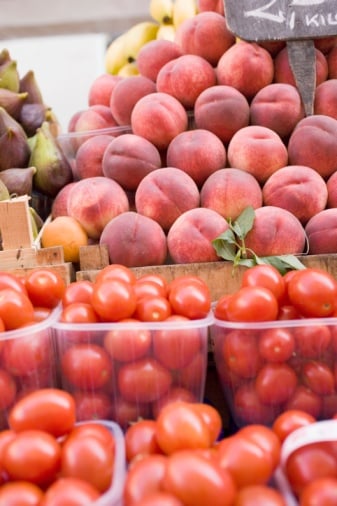 Gail's wedding was in the middle of August in New York City. She wanted the menu to reflect the location and time of year. Thus, heavy dishes like braised short ribs were replaced with summery favorites like grilled fish. In-season fruits and vegetables, such as tomatoes, corn, peaches, and Summer squash, were key ingredients. "We didn't know if it was going to be a hot, swampy, humid New York City Summer day, so we wanted the food to be clean and crisp. We wanted the menu to be food you would want to eat when it's that type of day."
Offer Signature Mixers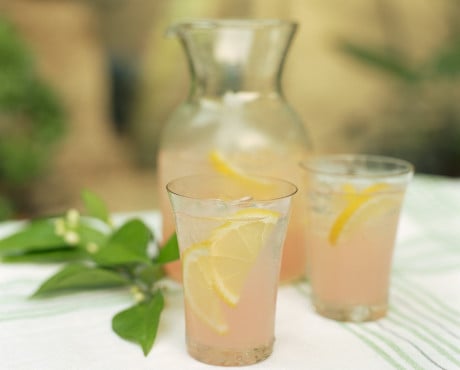 Instead of offering guests simply a signature cocktail, Gail went a step further and gave the choice of two mixers. There was a signature "Gail mixer" (strawberry lemonade) and a signature "Jeremy mixer" (blueberry peach iced tea). Each mixer could be enjoyed alone or with a spirit. Guests could customize their cocktail and have the Gail or Jeremy with vodka, rum, gin, or whiskey.
Take Into Account Who You Are as a Couple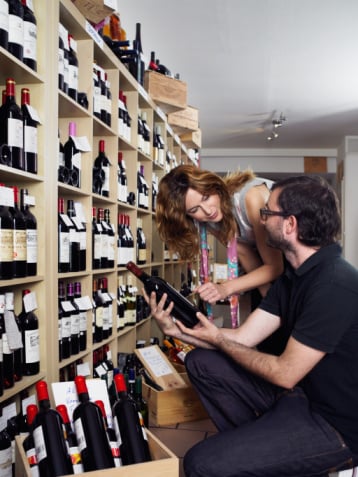 The wedding should be a party that represents who you are and where you are in life. Says Gail, "the most important thing to us was that we wanted the wedding to reflect us. Who we are as a couple. We didn't do what our mothers wanted, we did what we wanted."
Gail cites the wine they poured: Instead of buying one white and one red, she offered several different varietals that meant something to her and her husband-to-be. "We had a very special romantic trip to Italy, so we chose an Italian red wine we enjoyed on that trip. My dad is from South Africa, so we poured a South African white. Our favorite wine to drink in Summer is rosé, so we served that, too."
Trust the Experts
Gail entrusted her wedding menu to chef Daniel Boulud [7] and his excellent team of caterers. "Listen to the experts," Gail strongly advises. "Yes. I've planned a million dinner parties, but planning a wedding is totally different. The caterers, event planners, and florists throw weddings for a living, so take into account their opinions."
Don't Be Afraid to Shun Tradition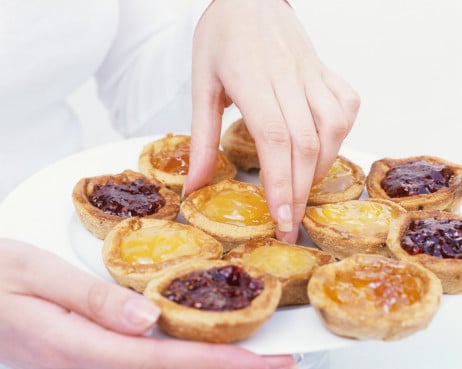 When imagining her wedding, Gail always assumed there would be a cake. But, she wanted everyone to get up from the dining tables and move directly to the dance floor. To ensure there would be no boring pause in the music for the couple to cut the cake, Gail opted not to serve a formal wedding cake. Instead, she had bite-sized passed desserts (mini sorbet bars coated in chocolate, chocolate dipped bananas and marshmallows, fruit tartlets, French macaroons, and chocolate chip cookies) that guests could enjoy while dancing.