Gail Simmons Interview: Her Memoir and Future Plans
Gail Simmons on Her New Book, Her Future, and the Question She Never Needs to Hear Again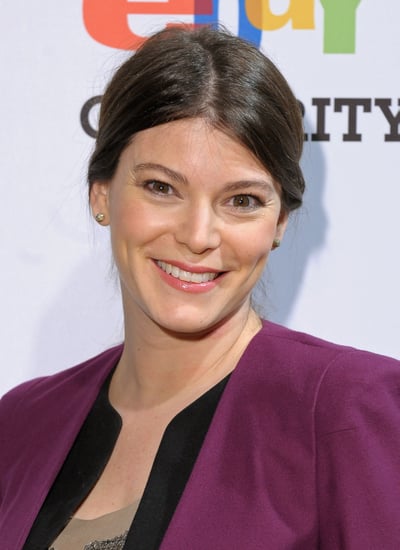 Gail Simmons has a pretty full plate right now: in addition to being in charge of special projects at Food & Wine magazine, she's also got some pretty steady gigs as a judge on Top Chef and the host of Top Chef: Just Desserts. But on top of that, her first book, Talking With My Mouth Full, was just released yesterday.
Over the phone, we caught up with Gail, who despite being at the top of her game, offered plenty of her time to share candid thoughts on everything from the health hazards of celebrity chefdom to her plans 15 years from now.
Find out her thoughts on current food issues, her plans for now (and later), and the one question she'd be happy to never hear again, when you keep reading.
YumSugar: Tell me about your book.
Gail Simmons: So, it's more or less a memoir, although I hate to use that term — it really is my story to date. It's not a cookbook, although there are a few recipes that are major milestones in my life. It's the story of how I got to do what I do, which is somewhat unconventional, especially when I started out 15 years ago and the landscape of culinary opportunity was so, so different from what it is now. There were no food blogs or reality competition shows.
YS: Why a memoir?
GS: I wanted to do a book, and my first instinct was to do a cookbook. But the more I thought about it, I didn't have an idea for a cookbook that felt authentic to me that the world needed and couldn't get somewhere else.
YS: Your book trailer pokes fun of all the questions you get on an everyday basis.
GS: It pokes fun at me, too. I realized there were about 25 questions that everybody asks me all the time — every journalist, every college friend, every woman at the corner store.
YS: So what's one question that you'd be happy to never hear again?
GS: The question about my weight. Every journalist, every stranger on the street asks, "How do you not gain weight?" The interesting thing about that question is that Tom [Colicchio, head Top Chef judge] never gets asked that question. It's interesting that that question is always posed toward Padma and myself, because we all face the same challenges.
YS: Frank Bruni published an article on the health pitfalls of being in the food biz, citing you as an example. Why is it that food writers and celebrity chefs go to such charades to conceal their health concerns?
GS: People brush it under the rug because we're in the industry of good food. There's two sides — there's one that says we eat so much decadent food, and the other side that makes you feel guilty about eating rich food — so where do you find yourself in the middle? We're all selling something. I'm not a dietitian, and I don't advocate fat-free celery diets; I'm in the industry of fine dining. If you want people to visit YumSugar, you can't talk about that all day long. You need to find that balance. I never shove it under the rug; I talk about it all the time. It's definitely important to find a balance between the two, between eating too much so you don't take care of yourself.
YS: So what is it that makes a good food writer today?
GS: I worked for Jeffrey Steingarten for a long time, and he taught me that what makes a great food writer is the same as what makes a great writer in any topic: good research. If you take the time to really know your subject, no matter what it is, the story will unfold and write itself.
YS: Top Chef is like an institution now. What is the single biggest way it's influenced our culture?
GS: It's increased people's understanding of food and professional cooking; it's thrown open the door to the kitchen and shown how much skill and talent is involved. I'm constantly approached on the street by people who tell me that they watch the show with their kids and now their 8-year-old wants to cook with them every night.
YS: Despite your newer roles, you're still involved with the Food & Wine Classic in Aspen in some capacity. Are you working on anything for the event's 30th anniversary?
GS: I ran the festival for four years, and passed the torch three years ago to someone else on the team. I still go to the Classic, and there's a lot going on that's new at the Classic: we're doing a 5K charity run, and a big concert, and I'm doing a big late-night dessert party to celebrate. That's all in the works.
YS: I'm sure you never would've anticipated being where you are 15 years ago. Where do you see yourself 15 years from now?
GS: I hope I'm still writing and eating and having fun in the restaurant world. I hope I have a family that I can share my food experiences with, the way my parents share theirs with me. But part of the reason why I've had success is I've never asked myself that question. I never set out with too strong of a perception of where I had to be down the line; I just sort of took every opportunity as it came. When one door opened, I gathered the courage to walk through it, even if it wasn't part of my original plan.