Garam Masala Popcorn
12 Days of Edible Gifts: Garam Masala Popcorn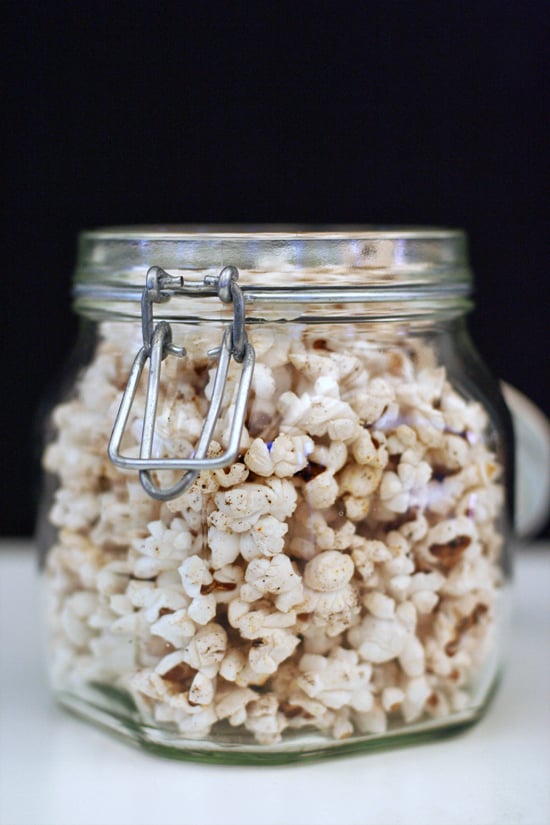 A few months ago, I tried Cobra Corn Mumbai Masala popcorn, and I couldn't get the Indian spices out of my head. Inspired to create a homemade batch of garam masala popcorn, I knew this unusual popcorn flavor would be appreciated by my family and friends during the holiday season as well.
People usually receive a plethora of indulgent treats as holiday gifts, so I thought it might be nice to keep this batch simple, butter-free, and salty. Garam masala is made of peppercorns, cloves, cinnamon, cumin, and cardamom, many of which are familiar holiday spices. Keep in mind you can control the heat of the popcorn, but even the most minute sprinkling of cayenne will give it a sufficient kick.

Sixteen cups may seem like a giant yield, but when I pulled out a big bowl of this popcorn for my family of four, I had to pry the bowl away from them so I could save a few cups for the photo shoot! Click here to make this easy, flavor-packed snack.
Garam Masala Popcorn
From Anna Monette Roberts, YumSugar
Notes
The garam masala is prone to burning on the bottom of the pot; shake the pot constantly to minimize this. Remove the popcorn from the pot immediately when you hear the pause in the popping, because even a few seconds too long is enough to burn the spices and popcorn!
Ingredients
3 tablespoons safflower oil (or other high-heat oil)
1 to 1-1/2 teaspoons garam masala
1/2 cup popcorn kernels
Salt, to taste
Cayenne pepper, to taste
Directions
Heat oil over medium-high heat in a very large stock pot with a lid, until hot but not smoking. Add garam masala and popcorn kernels and stir until well-combined. Lower heat to medium, close lid, and while securely holding the lid in place, shake the pot (toward and away from you) continually as the popcorn pops. As soon as you hear a 2- to 3-second pause between pops, immediately turn off heat and transfer popcorn to a separate bowl. Season with salt and cayenne pepper to taste. Store in an airtight container.
Makes four quarts (16 cups) of popped popcorn.
Information
Category

Other, Snacks

Cuisine

Indian