Garlic Bread
Treat Yourself With Warm, Buttery Garlic Bread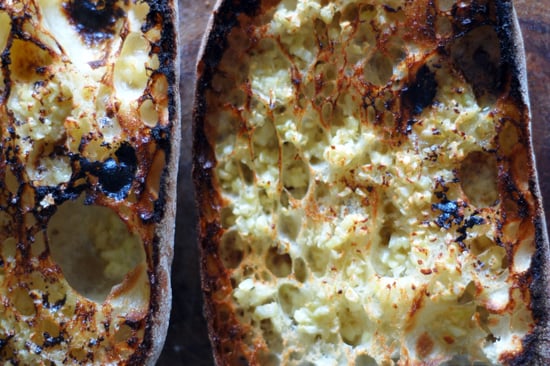 Come on, you deserve it. Garlic bread is one of those indulgences that should be enjoyed every once in a while. It's just good for the soul. I came across this recipe a while back and was really excited by the idea of stirring a bunch of chopped garlic into melted butter then pouring it over a delicious loaf of bread.


This recipe is almost too easy. By that I mean it's so simple I'm inclined to make it all the time and, thus, eat it all the time. Three ingredients are required: butter, garlic, and bread (I like to use ciabatta for this recipe, but a baguette will work as well). But I highly, highly recommend the optional lemon zest addition at the end. It adds a layer of complexity to the experience, making it even more addicting.


Be careful during the broiling step not to step away for too long, otherwise you will end up with blackened, buttery loaves of garlic bread (mine were a little overdone, but that didn't stop me from inhaling them). Ready to make this? Get the recipe when you keep reading.
Ingredients
1 loaf of ciabatta bread, or a baguette
1 to 2 heads of garlic, minced
1 to 2 sticks of unsalted butter
Zest of one lemon (optional)
Directions
Slice the loaf of ciabatta bread in half lengthwise and place on a large cookie sheet.
Melt the butter in a saucepan over medium heat. Add the garlic and let all the flavors come together for a minute or two.
Brush (or pour) the garlic and butter evenly over both halves of bread, making sure to get the chunks of garlic in all the holes of the bread. At this point, you can wrap and freeze the bread if you're looking to serve this at a later occasion.
Set your oven to 350°F and bake the bread for 10 to 15 minutes to heat it through.
Then switch your oven to its broiler setting and let the bread get brown and crispy for just a minute or two.
Let it cool for one more minute, then if you like, sprinkle lemon zest over the bread and cut up to serve.
Serves four to six.
Information
Category

Breads

Cuisine

North American