Garlicky Steak and Asparagus Recipe
Fast & Easy Dinner: Garlicky Steak and Asparagus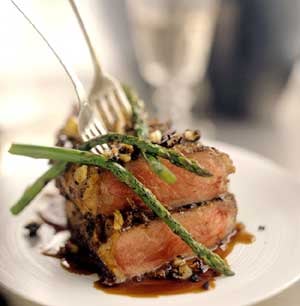 It's Friday! That means you've made it through a long week and are ready to relax. Why not treat yourself to a decadent and delicious steak dinner in the comfort of your own home? Like at an upscale steakhouse, this recipe serves the meat with a rich pan sauce and seasonal vegetable. The beef is rubbed with garlic and black pepper. For a delicious caramelized crust, let the steak cook in the pan untouched for several minutes. Want an even heartier meal? Pair the steak and asparagus with homemade mashed potatoes and a glass of good red wine. Learn the effortless technique now.
Garlicky Steak and Asparagus
Ingredients
1 12- to 14-oz. boneless beef top loin (strip) steak, cut about 3/4 inch thick
1 or 2 large cloves garlic, coarsely chopped
1/2 tsp. cracked or coarsely ground black pepper
1/4 tsp. salt
8 to 10 thin asparagus spears, trimmed (6 oz.)
2 tsp. garlic-flavored olive oil or olive oil
1/2 cup beef broth
1 Tbsp. dry white wine
1/4 tsp. Dijon-style mustard
Directions
Rub the steak on both sides with a mixture of the garlic, pepper, and salt, pressing in the mixture with your fingers.
Place the asparagus in a shallow dish and drizzle with the oil.
For sauce, in a medium skillet stir together the broth and wine. Cook over high heat for 4 to 5 minutes or until mixture is reduced to 1/4 cup. Whisk in mustard; keep warm.
Preheat an indoor electric grill on high setting, if available. Place steak on the grill rack. If using a covered grill, close lid. Grill until steak is desired doneness. (For a covered grill, allow 3 to 4 minutes for medium rare or 5 to 7 minutes for medium. For an uncovered grill, allow 6 to 8 minutes for medium rare or 8 to 10 minutes for medium, turning steak once.) If space allows, add asparagus to covered grill for the last 2 to 3 minutes or for uncovered grill the last 4 to 5 minutes of grilling. Cook asparagus until crisp-tender. Alternately, place steak on the unheated rack of a broiler pan. Broil 3 to 4 inches from the heat for 8 to 10 minutes for medium rare or 10 to 12 minutes for medium, turning once and adding asparagus to the rack of the broiler pan the last 2 minutes of broiling.
Spoon sauce on serving plate. Cut steak in half crosswise. Serve steak halves atop sauce with asparagus on top.
Serves 2.
Information
Category

Main Dishes, Beef

Cuisine

North American