Gary and Kit's Dukkah Review
Artisanal Pick: Gary & Kit's Dukkah
While we're always excited about the newest Hershey's candy or next Cheetos flavor, we adore trying handmade, artisanal products from smaller vendors. In our new series Artisanal Pick, we're highlighting small-batch products that we've tried, tested, and devoured.
Today, we're talking dukkah — more specifically, two blends from Gary & Kit's Napa Valley, an offshoot of local favorite Clif Family Winery. Dukkah, a versatile Egyptian spice, nut, and sesame seed seasoning, can be sprinkled on roasted vegetables, swirled into soup, or used as a spice-nut crust for meat. But our favorite way to enjoy this new product is also the most traditional: employed as a dip for pita and breads when mixed with olive oil (the company also makes an excellent extra-virgin bottling for $20).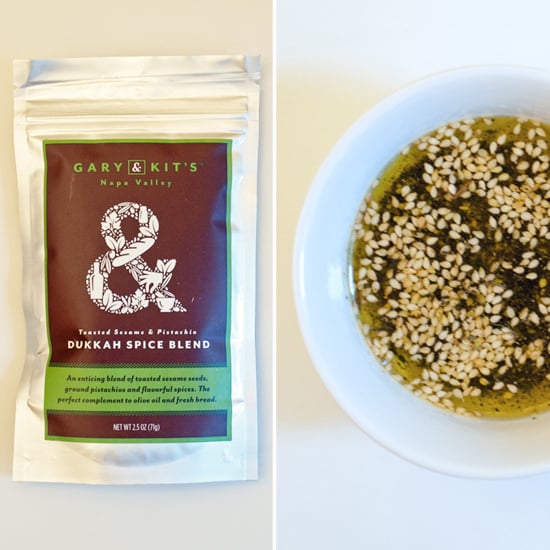 The dukkah line comes in several flavors. Green-tea fanatics will spring for the grassy Gary & Kit's Toasted Sesame & Pistachio ($7), which, with its anise-licorice flavor and piney aftertaste, is reminiscent of the warming beverage. We loved it swirled with fruity olive oil as an accompaniment to pita and imagine that it would also be at home sprinkled on steamed vegetables like green beans for a light, vegan-friendly side as well.
See our favorite when you read more.
While we were quite smitten with the aforementioned pistachio blend, our favorite variety is the Classic Hazelnut ($7). This nutty spice blend had a perfect hit of salt, a burst of earthy spice (cumin perhaps?), and a pleasantly astringent aftertaste that left us clamoring for second and even third helpings.
We can't wait to play around with these new flavors. Have you ever tried dukkah?