German Chocolate Cake Roll
Spread Holiday Cheer With a Bûche de Noël I've been dreaming of classic Christmas desserts, so this holiday, I thought I'd bake a bûche de Noël. Rather than opting for excessive designs and detailed accessories, I made a modern cake roll that looked (and felt) effortless. My guests couldn't get enough of the moist, light mocha sponge cake, which was a nice contrast to the sweet and nutty German chocolate filling. Impress your guests when you
.
German Chocolate Cake Roll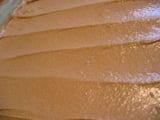 Ingredients
1 cup evaporated milk
1 cup plus 1-1/4 cups granulated sugar
3 large egg yolks plus 3 large eggs, at room temperature
1 stick cubed butter plus 1-1/2 sticks softened butter (2-1/2 sticks or 1-1/4 cups total)
1 teaspoon plus 2 teaspoons vanilla extract (3 teaspoons total)
1-2/3 cups sweetened coconut, toasted until light brown
1 cup chopped pecans
1-1/4 cups all-purpose flour
1/2 teaspoon baking soda
1/2 teaspoon salt
1/4 cup unsweetened cocoa powder, plus more for dusting
1 ounce bittersweet chocolate, finely chopped
1/3 cup strong hot coffee
1/3 cup buttermilk
Confectioner's sugar, for dusting
Directions
Position a rack in the center of the oven and preheat to 350ºF. Lightly grease a 13-by-18-inch jelly roll pan; line with parchment paper, letting it come up the short sides by about 2 inches. Brush the paper with oil or melted butter and lightly dust with flour.
Make the filling: Whisk the evaporated milk, 1 cup sugar, 3 egg yolks, and the cubed butter in a saucepan over medium heat. Cook, stirring constantly, until thick and creamy, about 10 minutes. Remove from heat; stir in 1 teaspoon vanilla, toasted coconut, and pecans. Set aside to cool completely, stirring occasionally.
Make the cake: Meanwhile, whisk the flour, baking soda, and salt in a medium bowl.
In another bowl, whisk the cocoa and chocolate. Add the hot coffee to the cocoa mixture, stirring until smooth; stir in the buttermilk and the remaining 2 teaspoons vanilla.
Using a mixer, beat the softened butter and remaining 1-1/4 cups sugar in a large bowl on high speed until fluffy, about 4 minutes. Reduce the speed to low; add the 3 whole eggs, 1 at a time, incorporating each one before adding the next. Add the flour mixture in 3 parts, alternating with the cocoa mixture in 2 parts, beginning and ending with the flour. Beat until just blended; if necessary, fold the batter together with a rubber spatula.
Spread the batter evenly in the prepared pan. Bake until cake springs back when pressed lightly, about 16 minutes. Cool slightly in the pan.
Run a knife around the edge and slide the cake with its paper onto a work surface. Spread the coconut filling evenly over the cake. Roll the cake from one of the short ends, pulling it away from the parchment into a tight cylinder; transfer to a platter. Cool completely and dust with the confectioners' sugar or cocoa.
Serves 8 to 12.
Information
Category

Desserts, Cake