German Chocolate Cupcakes Hostess Inspired
Hostess-Inspired German Chocolate Cupcakes For my uncle's birthday, I always bake him a German chocolate cake. However, this year I was bored with the regular old recipe and decided to try something new. Inspired by the classic Hostess Cupcakes, I created a rich German chocolate variation. First, I baked a moist chocolate cupcake. Next, I filled it with a coconut-pecan mixture. Finally, I topped it with a luscious layer of chocolate ganache.
Although the cake, ganache, and filling are simple to make, assembling the cupcake is more difficult. I tried using a pastry bag to stuff the center of the cupcakes, but quickly realized the pecans were too large and clogged the tip. Determined to fill the cakes, I used my finger to create a small cavity on the bottom of each cupcake and gently placed the filling inside. Any minor cracks were covered with thick a layer of ganache, so luckily, none of my guests noticed! To make your own scrumptious Hostess-inspired German chocolate cupcakes,
.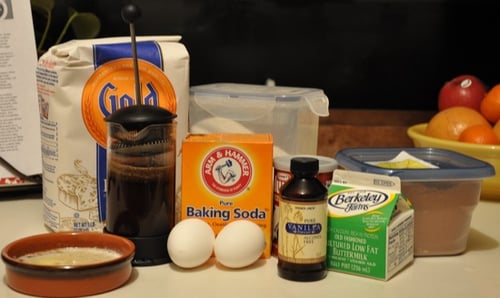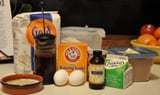 Ingredients
Cake
1 cup sugar
3/4 cup all-purpose flour
1/2 cup unsweetened cocoa powder, preferably Dutch process
1 teaspoon baking soda
1/2 teaspoon baking powder
Pinch of salt
2 large eggs
1/2 cup cold strong brewed coffee
1/2 cup buttermilk
1/2 teaspoon pure vanilla extract
4 tablespoons unsalted butter, melted
Ganache
1 cup heavy cream
1/2 pound imported semisweet chocolate, finely chopped
Nut Filling
2 large egg yolks
1/2 cup sugar
3/4 cup evaporated whole milk
3 tablespoons unsalted butter, cut into small pieces
1 cup coarsely shredded sweetened coconut (about 2 1/2 ounces)
1 cup coarsely chopped pecans (about 4 ounces), toasted
3/4 teaspoon pure vanilla extract
Directions
Toast pecan pieces at 350°F for 8-10 minutes until fragrant. Keep a close watch and occasionally toss the pecans to ensure that they don't burn.
Make the cake: Preheat the oven to 350°F. Butter and flour a muffin pan. In a bowl, sift together the sugar, flour, cocoa, baking soda, baking powder, and salt.
In another bowl, whisk together the eggs, coffee, buttermilk, and vanilla.
Beat the coffee mixture into the dry ingredients in 2 batches with an electric mixer on low speed. Beat in the butter. Pour the batter into the prepared muffin tin and bake for 8-12 minutes, or until a cake tester inserted in the center comes out clean.
Let the cakes cool in the pan on a rack.
Meanwhile, make the ganache: In a small saucepan, bring the cream to a boil over moderately high heat. Remove from the heat and stir in the chocolate.
Let stand for 1 minute, then whisk until smooth. Transfer the ganache to a bowl and refrigerate, stirring occasionally, until chilled and thickened, about 2 hours.
Make the nut filling: In a heavy medium saucepan, whisk together the egg yolks and sugar. Whisk in the evaporated milk and then the butter. Cook over moderate heat, stirring constantly, until the mixture thickens and lightly coats a spoon, about 10 minutes; do not let it boil.
Remove from the heat and stir in the coconut, pecans, and vanilla. Transfer to a bowl and let cool completely.
To fill the center of the cupcakes with nut filling, turn each cake upside down. Using your finger or a small spoon, carefully scoop out some of the cake to create a small hole. Gently insert the nut filling. Turn right side up.
Place on a cooling rack with either a pan underneath or wax paper to catch the extra ganache. If ganache is too hard, let it stand at room temperature and stir it briefly. Use a spoon to drizzle the ganache until the entire cupcake is covered. Place in a refrigerator or freezer to allow the ganache to set.
Top each cupcake with a dollop of nut filling. Enjoy.
Makes 12 cupcakes.
Information
Category

Desserts, Cupcakes