Get the Recipe for Dishwasher Salmon
Seriously, You Can Make Salmon in Your Dishwasher Kym Douglas and Cindy Pearlman, authors of The Black Book of Hollywood Diet Secrets, appeared on The Early Show this morning to give away some of their secrets. While they mostly spilled the beans on diet tips, there was one thing that stood out to me: dishwasher salmon. That's right I said dishwasher. You just seal the fish up in foil, toss it in the dishwasher and let it go. The steam, along with a waste of power and water, cooks it through. Just be sure you don't use any soap.
If you think this sounds totally wacko then I should let you know that this is not the first time this has been done. Bob Blumer, aka The Surreal Gourmet, has poached salmon in more than 100 dishwashers on three continents. His recipe actually looks pretty good and comes complete with a piquant sauce. I don't know if I can actually endorse this method, it seems like a waste of energy, but I do think it would be fun to tell your guests you made it in the dishwasher. If you want to try it yourself, get his recipe when you
.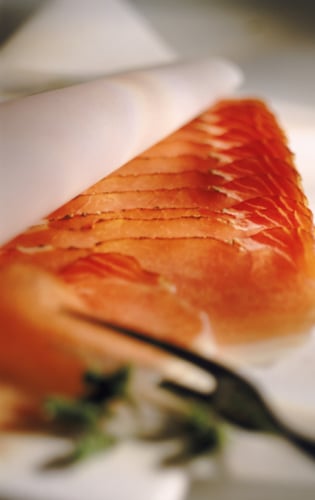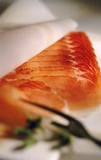 Ingredients
4 6-ounce salmon fillets
4 tablespoons freshly squeezed lemon juice
1/2 teaspoon salt
1/2 teaspoon freshly ground black pepper
heavy duty aluminum foil
Dill Sauce:
2 tablespoons butter
2 leeks, white part only, finely chopped, then thoroughly washed
1 jalapeño chili, seeds and membranes removed, finely diced
2 garlic cloves, minced
1 cup vegetable or chicken stock
1 1/2 cups lightly packed fresh dill, stems removed before measuring
2 tablespoons freshly squeezed lemon juice
1/4 teaspoon salt
1/2 teaspoon freshly ground black pepper
1/4 cup sour cream
Directions
Cut two 12-inch square sheets of aluminum foil.
Place two fillets side by side on each square and fold up the outer edges.
Drizzle 1 tablespoon lemon juice over each fillet. Season with salt and pepper.
Fold and pinch the aluminum foil extra tightly to create a watertight seal around each pair of fillets. Make sure the packet is airtight by pressing down on it gently with your hand. If air escapes easily, rewrap.
Place foil packets on the top rack of the dishwasher. Run dishwasher for the entire "normal" cycle.
When cycle is complete, take out salmon, discard foil, place one fillet on each plate, and spoon a generous serving of dill sauce overtop.
Don't have a dishwasher? Bake foil-wrapped packets in a preheated 400°F oven for 12 minutes.
Sauce
Melt the butter over medium heat in a sauté pan.
Add the leek, jalapeño, and garlic and sauté for about 5 minutes, or until the leeks are translucent—but not brown.
Reduce heat to medium and add the stock. Simmer, uncovered, for 15 minutes. (Adjust heat as required to maintain simmer.) The liquid should reduce by half.
Remove from heat and let cool.
Transfer to a blender or food processor and add the dill, lemon juice, salt, and pepper. Puree until smooth. Reserve and reheat just before serving. Stir in the sour cream at the last minute.
Information
Category

Main Dishes, Fish

Cuisine

North American