Get a Recipe for Ice Wine Chocolate Truffles
Good Things Come in Small Chocolate Packages I love to follow up a nice meal with a little something sweet. It doesn't have to be much, just a little morsel at the end. Keeping this in mind, I went out to find a simple, sweet bite and stumbled across this recipe for Ice Wine Truffles. It looks ridiculously easy and wonderfully tasty so I'm going to give it a try. If you want to join me, get the recipe when you
.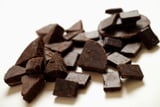 Ingredients
6 oz good quality bitter sweet chocolate (180 gm)
1/2 cup whipping (35%) cream (125 ml)
2 tbsp ice wine (30 ml)
Finely chopped whole almonds (skin on), to taste
Good-quality cocoa powder, for rolling
Directions
Chop the chocolate very finely and transfer to a medium bowl.
Boil cream and immediately pour over chopped chocolate.
Stir until all chocolate has melted.
Stir in ice wine until blended.
Cover surface with plastic wrap and freeze until firm, about 2 hours.
Scoop into small balls with melon baller and transfer to a baking sheet.
Freeze for 10 minutes.
Roll truffles in almonds, then dust with cocoa powder.

Makes 20 truffles.
Information
Category

Desserts, Chocolate