Get Your Goat ... Cheese Mashed Potatoes
While it's hard to improve on classic comfort foods like mashed potatoes, a little tweak can go a long way. Goat cheese, leeks, and chives take this standard side dish to a new level of scrumptiousness. This recipe may be more complex with a couple of extra steps, but trust me, it is worth it! They're so delicious that no butter or gravy is required. The pure flavors of tangy goat cheese, savory leeks, and soft onions will satisfy anyone. If you want to impress your guests with these mouthwatering mashed potatoes,
!
Mashed Potatoes With Goat Cheese, Leeks, and Chives
Adapted from Gourmet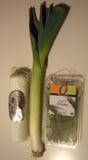 Ingredients
2 1/2 pounds russet (baking) potatoes
1 1/2 cups thinly sliced well-washed white, pale green part of leek
3/4 cup finely chopped onion
2 garlic cloves, minced
1 shallot, minced
5 tablespoons unsalted butter
2/3 cup milk
6 ounces crumbled mild goat cheese
1/4 cup minced fresh chives
Directions
In a saucepan combine the potatoes, peeled and cut into 1-inch pieces, with enough cold water to cover them by 1 inch and simmer them for 10 to 15 minutes, or until they are tender.
While the potatoes are cooking, in a heavy skillet cook the leek, the onion, and the garlic in 2 tablespoons of the butter, covered, over moderate heat, stirring occasionally, for 10 minutes, or until the vegetables are soft.
Drain the potatoes, return them to the pan. Mashed the potatoes. Stir in the milk, the remaining 3 tablespoon butter, the leek mixture, the goat cheese, the chives, and salt and pepper to taste.
Serves 4-6.
Information
Category

Side Dishes, Potato