Giada De Laurentiis at 2010 Food & Wine Classic in Aspen, CO
Giada Offers Pointers on Everything From Pasta to Parties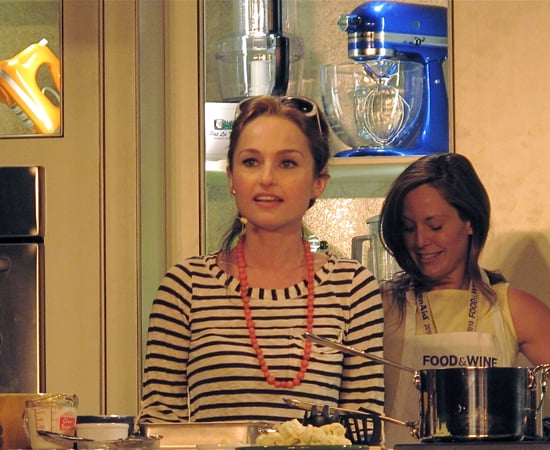 Of all the demos I visited at the Food & Wine Classic, the seminar hosted by Giada De Laurentiis surprised me the most. I worried that it'd be too crowded due to the Food Network star's popularity, but it wound up being one of my favorites. Although the Italian bombshell did spill her secrets for looking great, she definitely demonstrated that she isn't just a pretty face. The lady can cook, and has a sense of humor to boot! She invited three audience members to join her on stage to cook specialties such as cherry tomato pasta and cauliflower gratin, offering plenty of party advice and pasta tips along the way.
See what she had to say after the break.


Stick to simple recipes. "Prepare recipes that are easy enough for you to do in your sleep," Giada suggests. In other words, make it easy on yourself!
Use family members as test subjects. "A dinner party is not the time to try out a new recipe," she warns. "If you must make something new, test it out on your family beforehand."
Make a maximum of one dish a la minute. Like Ming Tsai, De Laurentiis is all about the prep. She recommends making a bunch of dishes the day before, then finishing them off on the stove or in the oven at the last minute.
You can serve some dishes at room temperature. Dishes like bean salads or fresh pastas can still taste great without being reheated.
It's OK to let certain courses sit out for a while. Unless a dish contains meat or seafood, it can probably be left out for a while at room temperature. "Nobody's going to get food poisoning!" she exclaims.
Cook pasta without a lid. That way, you don't have to worry about it boiling over if you don't have to stand over it and watch it.
Jazz up your Italian with pecorino. For a little more bite, top dishes with pecorino cheese instead of parmesan; it has more sharpness.
All you entertainers out there: what would you add to the list?