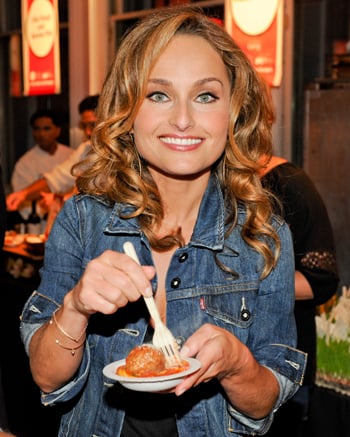 We've hit the ground running at the New York City Wine and Food Festival, and last night we kept busy (and full) stuffing our faces at Meatball Madness (our favorite: a brilliant duck and porcini creation).
While our mouths were pretty much full the entire time, we'd have been remiss not to catch a word with the evening's host, Giada De Laurentiis, who had the weighty task of evaluating all 25 meatball contenders at the event. She took a minute to tell us what makes a great meatball at home, as well as her Halloween plans and her latest big project.
More on meatballs, her favorite homemade Halloween candies, and food trends she's over when you keep reading.
YumSugar: You're hosting Meatball Madness, but you know a thing or two about meatballs yourself. What's the secret to crafting the perfect meatball?
Giada De Laurentiis: My secret to making the best meatball is a nice amount of pecorino cheese. Keep it nice and moist, not too many bread crumbs, and I personally love to make chicken or turkey meatballs. I'm a "light" girl so I want them to be light, too.
YS: Now that you've tried all 25 meatball contenders, do you have a shoo-in for tonight's top honors?
GDL: I have a couple, but I don't think I should share yet! I will tell you that the Greeks [Kefi] rocked it and there's a rabbit meatball that's pretty darn great. You have to find it.
YS: With Halloween right around the corner, what's your favorite thing to make?
GDL: I make these cute little bugs with my daughter, Jade, that are actually dried apricots. We use different colored thin licorice for the legs and chocolate chips for the eyeballs. Of course, as we're making them, I watch her [Jade] eat all the chocolate chips. It's so much fun to make edible little treats like that.
YS: It's hard to believe that we're nearing the end of 2011. We want to know: what do you think is going to be big in 2012?
GDL: Vegetarian, vegetarian, vegetarian. I think people are just really looking for lighter food on a regular basis. Because of that I'm testing out a lot of pizza recipes with gluten-free flours. Almond flour and quinoa are two of my new favorite ingredients to use in everything. I've been playing around with them a lot — how to make fresh pasta with it, how to put it into baked goods — and then, of course, agave as a substitute for sugar. I'm trying to find fun ways to incorporate these things that have actually been around for a long time, not necessarily in our culture, and make them more mainstream.
YS: Are there any food trends you wish would go away for good in 2012?
GDL: The idea of low carb, no carb, and fat free — they don't exist!
YS: What else is in the pipeline for you?
GDL: I just shot a show in Bora Bora, a prime time show called Giada in Paradise, which was awesome. I start shooting Giada at Home in about three weeks and I have a cookbook coming out in April 2012. So . . . a couple of things!
YS: We have to ask — shooting on location in Bora Bora, were you inspired by the culinary differences? If so, what ingredients can we see more of since this trip?
GDL: Coconut! Lots and lots of coconut. Anybody who really knows my cooking knows that I never use coconut at all, but I fell in love with cooking with coconuts and all of the ideas that stemmed from cooking with them. I'm going to be incorporating this into my new season — coconut milk, fresh coconut, so much fun.
— Additional reporting by Susannah Chen
Source: Neil Rasmus/ BFAnyc.com