Giada De Laurentiis Does Not Plan on Having More Kids and Other Fun Facts
5 Things You May Not Know About Giada De Laurentiis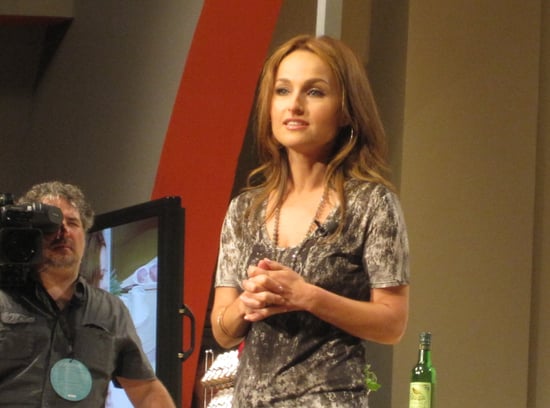 Over the weekend I attended the Food Network's New York City Wine and Food Festival. There were tastings, book signings, parties, and chef's demonstrations. One of my favorite demos was hosted by the lovely Giada De Laurentiis. The petite and gorgeous chef, who made smashed potatoes, pork chops agrodolce, and chocolate cookies, invited audience members to the stage and candidly answered plenty of questions. You may know that she's the mother of 2-year-old Jade and that she pronounces words like mozzarella with a distinct Italian accent, but during the demo I learned a couple of things I never knew about Giada. Find out what they are after the break!
Her show, Giada at Home, is shot on a set. But, she claims that the house (in Malibu, CA) they film in is very similar to her own home. She even has the same beautiful ocean view!
She was born into a culinary family. Her grandfather owned a pasta factory in Naples before World War II. It was lost during the war, but in the '80s, after moving to America, he opened two gourmet Italian shops, one in LA and the other in New York.
She doesn't plan on having more children. Although she acknowledged that "you don't really know what it's like to have kids until you have one of your own," De Laurentiis is focusing on her career, "I have so many babies: the show, Todd, and Jade."
Her next cookbook is about time. The chef, who has never before focused on a 30-minute-meals style of cooking, is currently working on a quick cookbook. "Since having Jade, things have gotten faster. Most of the recipes in the new book can be made in under an hour. But, they will still deliver on flavor."
Her favorite item in her cookware line for Target is the mezzaluna knife. If you were to buy just one piece, she recommends that one!