Giada De Laurentiis Interview About Food Network Star
Giada De Laurentiis Dishes About the Next Food Network Star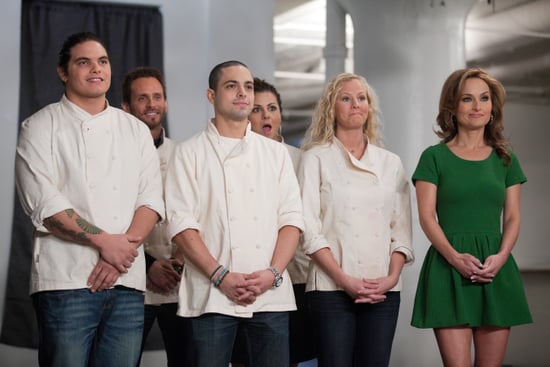 The votes have already been cast for season eight's Food Network Star. Before the winner is announced on the finale this Sunday at 9 p.m./8c, we spoke to Giada De Laurentiis on her experience as a mentor, her favorite recipe from the season, and who she's betting will win.
YumSugar: What's it like being a mentor on Food Network Star?
Giada De Laurentiis: In the past we have said that I was a mentor, but truly, I didn't really get a chance to mentor these folks. I think I learned a lot, and I feel emotionally invested in the show. I think you'll find that's what it was like for Bobby Flay and Alton Brown, as well. I really felt like [the people on my team] were almost my kids. I felt so emotionally invested in their future and in their performances.
YS: What was the most important lesson you learned from your team?
GDL: I think that one of the most important lessons I have learned from my team is that sometimes we try desperately to turn someone into something that we think they should be, when really we need to let them grow on their own. I learned that 10 weeks isn't always enough to polish that gem. It's important that [the contestants] stay true to who they are. As much as I want to make them grow and move faster, the experience of turning them into these stars takes time, and I need to be more patient.
Find out Giada's favorite recipe from the show and who she thinks will win.
YS: Are there any specific recipes that really inspired you from this season?
GDL: Ippy's Eggplant Zuppa. We went on a tour of different iconic spots in New York City. Arthur Avenue Trattoria is big for their Eggplant Parmesan, and Ippy turned it into the most delicious soup I've ever had. He was so inspiring with his story and was able to infuse his own family values and great tradition into this eggplant parmesan soup. I was extremely moved by it, I have to say.
YS: Do you think it's a good idea that the viewers' votes will determine the winner of Food Network Star?
GDL: Yes, I think that it's really important to allow the audience to emotionally invest and connect with these folks that they're watching. I feel like, ultimately, the success of a Food Network star is in the hands of the viewership, so why not let the viewers decide who they want to watch? It makes sense to me.
YS: How much personality and how much culinary talent do you think it requires to be a Food Network star?
GDL: For me, personally, I think that you need to have a strong culinary background, you need to be passionate about food, and you also have to be able to sell it. You could be the greatest cook in the world, but if you can't teach and sell at the same time, you aren't going to be very successful. No one can taste and smell the food you're making, so it all relies on your ability to sell something. I truly believe that personality, a great smile, and a sparkle in the eye is just as important as the ability to cook.
YS: If you had to guess, who do you think will become the next Food Network star?
GDL: I think that just from watching social media and seeing who people are interested in, I have my money on Justin. [The winner] doesn't have to be on my team. I'm interested in everybody's contestants, and I think he has intrigued many people to the point where I think they want to see what else he can do.
(©2012, Television Food Network, G.P. All Rights Reserved)