Giada de Laurentiis Feel Good Food Interview
How Giada De Laurentiis Makes Us All Feel Good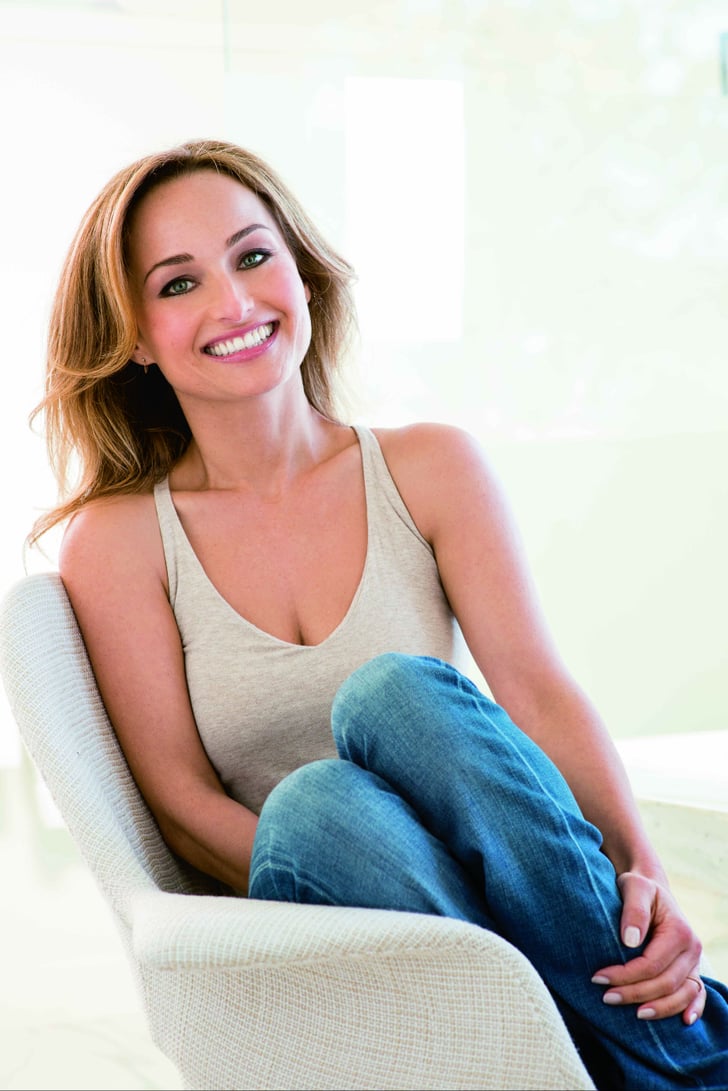 It's the question everyone's dying to know: How does Giada De Laurentiis manage to stay so slim? The Food Network chef comes clean about her clean diet in her recent cookbook release. Quite the departure from her bread and butter olive-oil Italian cookbooks, Giada's Feel Good Food ($19, originally $33) focuses on recipes that are predominately healthy, vegetarian, vegan, and gluten-free. But that's not the only way Giada is expanding her brand. We talked about her other surprising ventures, including what she hopes to be remembered as. Spoiler alert: it's not a TV personality.
POPSUGAR Food: What inspired you to write a healthy cookbook?
Giada De Laurentiis: Honestly, my fans did, because the number one asked question has always been, "How do I stay trim and eat all of this food?" I kept telling people it's portion control, but I don't think it sunk in. They needed more. They needed the tips. When it came around to doing my seventh book, I wanted to give them something that they've wanted for a long time. I thought, "I'm ready to give it. I'm ready to put it together and really make sense out of it," and people were ready to receive it.
PS: You've always written recipes with accessible ingredients, but you use a lot of chia seeds, tofu, and kale in Feel Good Food. Do you think these ingredients are mainstream now?
GDL: I think some of them are mainstream. Chia seeds probably are not just yet, but they're becoming more and more popular. I think kale is mainstream now. Tofu for sure, [but] it's not for everybody of course. At the end of the day, the tide is turning, and I think people are looking for healthier ways to eat but that don't necessarily need a diet. People are looking for stability, overall wellness, and feeling good on a regular basis rather than a yo-yo diet. So these ingredients kind of they bring that.
PS: Did you have to do a lot of recipe developing for this cookbook, or were most of these recipes things you've made over the years at home?
GDL: Most of them are all things that I've been making over the years. Some recipes had to go through a lot of cleaning up, because I wanted the recipes to be something that would make your mouth water but still make your body feel good. I had to take out a lot of salt, a lot of olive oil — things of that nature. Others I've been making for a very long time, [but] I just had to sort of just kind of narrow down the steps so that it's super easy for anybody making it at home.
PS: Who's inspired your healthy cooking?
GDL: I kind of have been eating this way my whole life. My mom and my grandmother, they've always eaten more of a healthier diet, and I think Italian food lends itself to that. I just think that people in America think Italian food equals fat or meatballs and sauce or heavy food. Actually, Italian food is actually quite light. Living in California over the years has been my inspiration. We just eat a healthier diet. My yoga instructors have been a big part of my wellness plan. My acupuncturist and my chiropractor, they've all been an inspiration to me.
PS: What are your favorite recipes from the cookbook?
GDL: Chocolate fig bites, my kale and brown rice soup, and my Swiss chard. There's all my shakes and my smoothies. There's a banana date walnut smoothie that's awesome. There's my apple ginger spinach juice that I love. My oatmeal with olive oil, which is the simplest thing on the planet, but again one of my favorite things to have for breakfast. There's a great detox broth that I adore.
PS: You've done something else a little out of the box: your new weekly lifestyle iPad app. Tell me a little more about it.
GDL: I wanted to talk to my fans on a weekly basis and give them very up-to-date information. It's timely; it's very of the moment. We produce it very close to when you actually see it . . . within weeks. I wanted people to sort of feel like they could get little tidbits of information every week, things that could help them — lifestyle tips and food tips that they could kind of fold into their daily routine that enhances their lives. It's like Us Weekly meets my cooking show.
PS: You told Alton Brown on his podcast that you don't want to be pigeon-holed as a food TV personality. What else can we expect in the coming year?
GDL: I've got a third installment of my kids' books that comes out in January. I have a restaurant that opens in Vegas on the Strip in April. I'm working on some shows that I'd like to produce. In the meantime, I'm still doing my cooking show and doing the stuff that I regularly do. I'm trying to reinvent myself, expand the brand a little bit, and try new things that I haven't done before. As scary as they might be, they're also kind of exciting.
PS: You do so many different things — your Food Network shows, judging, recipe developing, and writing. Which one are you most proud of?
GDL: Well probably my shows and my books, because that is sort of what I lead my entire brand on. I think that at the end of the day I am a chef and a cook, and I'm as good as my last recipe.
PS: What do you hope to be remembered as?
GDL: A mom. I guess really and truly at the end of the day a mom who made people smile. That's about it, really.
PS: What's one thing people don't know about you?
GDL: What is the one thing that people don't know about me? Maybe that I don't live as glamorous of a life as they think I do. People think my life is so perfect and that I live this phenomenally glamorous life, but I think I live a life similarly to many, many people in this world. Every time someone says, "Oh you know it must be so hard to do all these things," I'm like, "You know it's just like anybody else, any other working mom. We all have jobs and we just want to be good at our jobs." That's really all I strive to do — to be good at my job. If I can do that, then I feel like I've had a successful life.
Source: Reprinted from Giada's Feel Good Food. Copyright © 2013 by Giada De Laurentiis. Photographs copyright © 2013 by Amy Neunsinger.