Gin Recipe
12 Days of Edible Gifts: Gin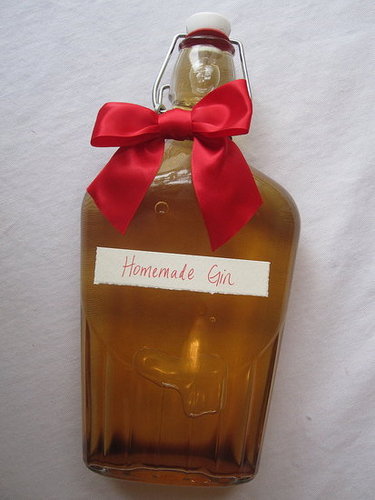 Since a bottle of alcohol is a pretty standard holiday gift, every year I like to make some sort of spirit. Normally I stick to liqueurs like kahlua, Irish cream, or limoncello, but this December, I'm giving homemade gin!
Basically, gin is vodka that's been infused with juniper berries, so it's made like you would any other flavored vodka: let the aromatic seasonings infuse the vodka for a certain amount of time, strain, and then enjoy! The finished product has a cloudy color and classic herbal flavor. Give in a festive bottle or package with tonic, limes, and a couple of glasses.
To check out the easy recipe and watch a video of me making it, keep reading.

Ingredients
1 (750ml) bottle of inexpensive vodka
2 Tbsp juniper berries
3/4 tsp coriander seed
1/4 tsp allspice
1/4 tsp fennel seed
3 green cardamom pods
2 black peppercorns
1 bay leaf, torn into pieces
1 (3-inch) sprig fresh rosemary
1 (2-inch-long) fresh lemon or lime peel
Directions
Infuse juniper in the vodka overnight*.
Add remaining spices and herbs in the morning and let infuse all day. When you get home from work, strain out the botanicals and start making your favorite gin cocktails.
Makes 1 750 ml bottle of gin.

*I let the juniper infuse the vodka for a couple of days.
Information
Category

Drinks, Cocktails

Cuisine

English/Scottish/Irish