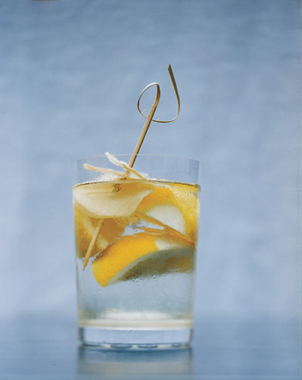 Although there's no customary drink associated with Chinese New Year, I'm serving a potent signature cocktail at my singles-only dinner on Valentine's Day. The flavor profile of the drink? Ginger! It's a key component in a lot of traditional dishes and it highlights the clean flavors of Chinese cuisine. This beverage has a double dose of ginger thanks to an easy homemade ginger syrup and my favorite ginger liqueur, Canton. Vodka is the base spirit, and the resulting libation is smooth, easy to drink, and packs a spicy kick. To serve this at your Chinese New Year celebration get the recipe and
.


Ingredients
For ginger syrup:
1/4 pound ginger, peeled and thinly sliced (about 3/4 cup)
1 cup sugar
1 cup water
For cocktail:
1 cup plus 1 tablespoon vodka
6 ounces (3/4 cup) Domaine de Canton (ginger liqueur)
1/2 cup plus 1 tablespoon fresh lemon juice
1 (1-liter) bottle soda water or seltzer, chilled
Garnish: candied ginger and lemon wedge
Directions
Make ginger syrup: Bring ginger, sugar, and water to a simmer in a small heavy saucepan over medium-low heat, stirring until sugar has dissolved, then gently simmer, uncovered, 30 minutes. Strain through a sieve and reserve ginger for another use, then cool to room temperature.
Stir together ginger syrup, vodka, ginger liqueur, and lemon juice in a pitcher.
Divide among 6 (10-ounces) Old Fashioned glasses filled with ice. Top off with soda water. Spear a few slices candied ginger onto each of 6 wooden picks and add to drinks, then garnish with lemon wedges.
Makes 6 drinks.
Information
Category

Drinks, Cocktails

Cuisine

Chinese