Gingerbread White House
Bill Yosses Reveals This Year's Gingerbread White House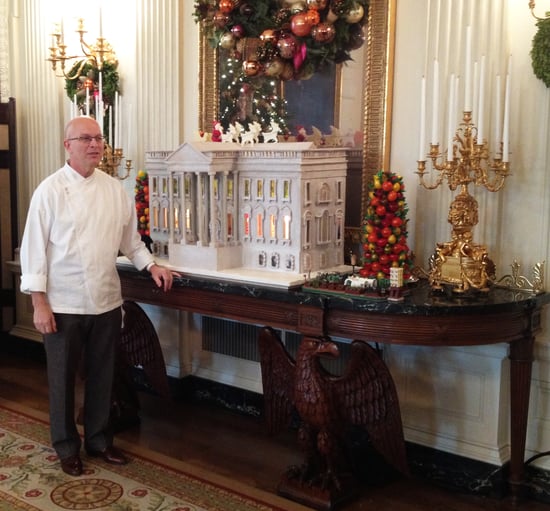 If the idea of building a basic gingerbread house sounds daunting to you, try building a 300-pound gingerbread replica of the White House. That's exactly what presidential pastry chef Bill Yosses has been busy doing for the past several weeks, as we discovered when we had a chance to tour holiday decorations at the White House.
The 300-pound replica of 1600 Pennsylvania Avenue — which features reindeer on the roof, an edible vegetable garden, and Bo Obama playing outside the front lawn — was one of the highlights of our tour of the White House and its holiday festivities. Although a similar house is re-created annually, each house varies from year to year, so we spoke to Chef Yosses about how the creative process works, and why this house was different.
YumSugar: When do you begin designing and creating the White House gingerbread house?
Bill Yosses: Mrs. Obama meets with her staff in July and they begin to talk about different proposals, what they would like to have as a theme, and how they would like to see the decorations. At that time, we sent a note up, and asked if we could do something different this year; I proposed this bread that looks like stone. She said, "Yes, let's try it, let's see what happens." We're all happy with how it came out.
YS: So you do a house every Christmas?
BY: We do a house every Christmas. We do different aspects [of the White House]: the north side, the south side. This tradition has been here since 1969 and other houses have been used, but we've kind of settled on the White House and different versions of it. We're celebrating the craftsmanship of those who built the house itself because the stone was quarried not far from here.
Learn more about the miniature White House — including how long it takes to come together! — when you read more.
YS: How long did it take you to make the house?
BY: Well, we started out with one person making prototypes to test the recipe in early October, and he and I worked for a while on that. By November, there's two or three of us working a couple hours a day every day. So about a month for three people off and on.
YS: Is anything new this year?
BY: There's a new style this year. In the past we did white chocolate, because we like that we can carve it, mimic the tiny, detailed walls. This is actually made out of bread. It is a recipe that we put together with rye flour, buckwheat flour, and whole wheat to make it look like stone. Then we rolled it out and let it dry, and with that we were able to carve and get it into the shape that it is now.
YS: So it's essentially matzo?
BY: It is, so we might keep it around for the seder. Another feature that's new is that on the second floor, you can see the windows. There's a new technique that we developed: it's poured sugar so it's clear. When you boil sugar and it turns molten, it's clear. Then what we did is we printed out pictures of the rooms onto page separators, like the acetate that you use in a notebook. We printed it out on that, poured the sugar on that, and then when it cooks, it stays sturdy and rigid. Then we peel that plastic off, and the image stays on the sugar because sugar is so sticky. All along there, those are actual rooms of the second floor [points]. We have a really great group of electricians, and they worked with us to get just the right lighting on the inside.
YS: You guys have a fun time creating a version of Bo.
BY: Yes, the dog is on the far side there. The center of it is gum paste and marzipan. We actually sprayed him with colored chocolate: we put black food coloring in it, then we melt it and shoot it through a paint sprayer so you get these little tiny dots just like the real thing. Then we use white food coloring for his paws.
YS: Do you spray something on the edible structure?
BY: We don't. What I did do this time is, in order to make the stone look more natural and be more uniform, I took some white food coloring and diluted it, and we just kind of rubbed it into the stone. We took samples of that stone, and some of the stone of the White House is exposed and has not been painted, so we matched it up. It's a pretty close match!
— Additional reporting by Susannah Chen