Gluten-Free Entertaining
7 Tips For Gluten-Free Entertaining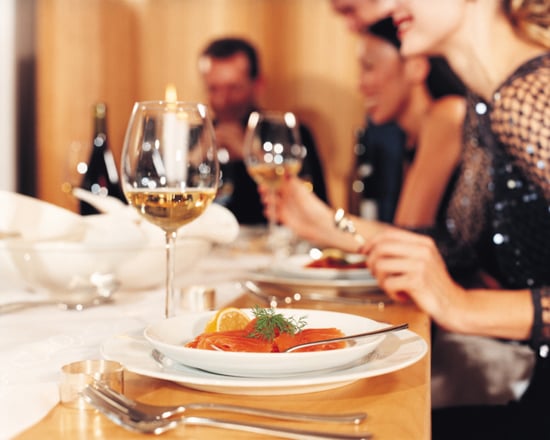 Did you know that today's National Celiac Disease Awareness Day? Neither did I — but then again, I didn't know that imitation crab meat, oyster sauce, and licorice all have gluten, either. Gluten may seem innocent enough — it's a protein composite found in all wheat products — but for an estimated 3 million Americans with celiac disease, it can have devastating effects if consumed.
A whopping one in 133 Americans has this autoimmune disease, so if you're big on entertaining at home, chances are, you'll need to be equipped to go gluten-free at some point or another, whether it's an intimate dinner, tailgating bash, or Christmas party. I asked Alice Bast, president of the National Foundation for Celiac Awareness and a sufferer of the disease herself, for some advice on doing just that. Keep reading to see her tips for gluten-free entertaining at home.
Keep it simple. The fewer ingredients a dish has, the lower the risk of contamination.
Shop the perimeter of your store. Build your meal around fruits, vegetables, meats, and other unprocessed foods that are naturally free of gluten.
Don't cross-contaminate. It's easy to overlook cross-contamination: "If you've ever dipped a knife into a jar of peanut butter, spread that on bread, and then put the knife back in the jar, then you've just cross-contaminated," Bast explains. To prevent potential contamination, use a cutting board that hasn't been exposed to gluten products; if your kitchen isn't an entirely gluten-free kitchen, employ foil or parchment paper in your oven to minimize risk.
Remember, there are plenty of naturally gluten-free starches. These include potatoes, rice, and amaranth. "Quinoa is awesome; it's easy, versatile, and fun to cook with," Bast suggests.
Know what drinks you can and can't serve. Wheat-distilled vodka, surprisingly, is OK; beer, which is made from barley, is off limits.
Always read labels. Even products you wouldn't expect to contain gluten might have a trace of it. Bast cites tea as an example: some teas contain barley as an ingredient.
Look for "gluten-free" on the label. A number of organizations, like the Gluten Intolerance Group or Quality Assurance International, have gluten-free seals.
What are your suggestions for successful gluten-free entertaining?