Go Bananas For Frozen Chocolate-Covered Banana Bites Every so often I come across a simple recipe and wonder — why on earth didn't I think of that?! While browsing a recent issue of Bon Appétit, this was the case with frozen chocolate-dipped bananas. Frozen chocolate banana Popsicle are a fave, but, with their variety of toppings, these bites are even better!
The banana bites are quick to make and once the dipping and coating starts, things get messy. Kids would have a great time preparing them.
Toasted hazelnuts, shredded coconut, crushed creme-filled cookies. and chocolate covered pretzels were my toppings of choice. Be sure to remove the bites from the freezer at least 10 minutes before serving, so the frozen banana can slightly soften. If you have extra candy from Easter lying around, melt it down or crush it up to get started on your own scrumptious banana bites! For the recipe,
.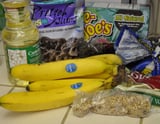 Ingredients
2 cups bittersweet chocolate chips
2 tablespoons canola oil
Assorted toppings (such as crushed chocolate sandwich cookies, toffee bits, Butterfinger candy bars, chopped salted peanuts toasted shredded coconut, crushed chocolate dipped pretzels, crushed pretzels, chopped hazelnuts)
3 ripe bananas, cut into 1/2 inch thick slices
Directions
Stir chocolate and oil in heavy small saucepan over low heat just until smooth. Let stand 15 minutes to cool.
Place each topping in separate shallow dish. Line baking sheet with foil. Arrange banana slices on foil. Using fingers or utensil, dip 1 banana slice in chocolate, coating completely. Shake off excess chocolate.
Drop dipped banana in 1 topping. Using clean hand or utensil, sprinkle more topping over banana to coat; transfer to foil-lined sheet.
Repeat with remaining bananas, chocolate, and toppings. Freeze until firm, about 3 hours, then serve.
Makes 36 banana bites.
Information
Category

Desserts, Frozen