Go Tropical With Spicy Shrimp Cocktail After learning that larger shrimp should be deveined, I decided to throw a couple on the barbie and make a shrimp cocktail Carmen Miranda would be proud of. With the end of Spring bringing a large bounty of fresh fruit and vegetables, I picked up a couple avocados, corn on the cob, and mangoes to create a fruity and refreshing cocktail.
The shrimp rub is spicy, and alone these shrimp might make your mouth burn. But these slightly smoky shrimp are well balanced by the creamy avocado, crunchy roasted corn, and sweet mango mixture. This dish is perfect for parties as everything can be prepared the night before and then quickly assembled just before serving. If you want to give this complex and vibrant dish a try,
.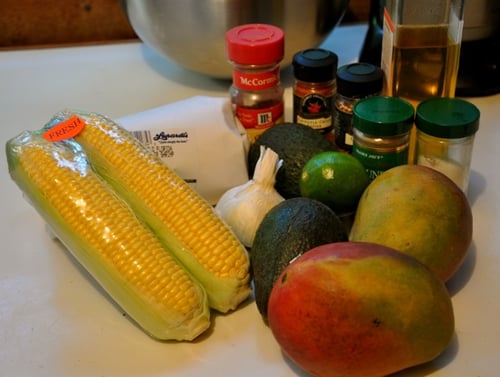 Spicy Shrimp With Avocado, Corn, and Mango Cocktail
Inspired by Epicurious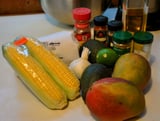 Ingredients
Shrimp
20 jumbo shrimp (about 1 1/2 pounds), peeled and deveined
2 teaspoons chile powder, (use less, if desired)
1 teaspoon chipotle chili powder, (use less, if desired)
1 clove of garlic, finely diced
1 teaspoon freshly ground coriander
1 teaspoon ground cumin
1/2 teaspoon freshly ground black pepper
2 tablespoons extra-virgin olive oil
Avocado, Corn, Mango Cocktail
2 avocados, diced into 1/4 inch pieces
2 mangoes, diced into 1/4 inch pieces
2 ears of corn, cleaned and shucked
2 limes
salt, to taste
pepper, to taste
Olive oil
Directions
Rinse the shrimp under cold running water, then blot them dry with paper towels. Soak two to three skewers in water.
Place the chile powders, garlic, coriander, cumin, and pepper in a mixing bowl and whisk to combine. Add the shrimp and toss to coat with the spice rub. Stir in the olive oil. Let the shrimp marinate in the refrigerator, covered, for 30 minutes to 1 hour.
Preheat barbecue to high. Skewer shrimp. Cook the shrimp for 2 to 4 minutes until firm.
With the barbecue still on high, coat the ears of corn with olive oil and place directly on grill. Rotate slowly roasting each side of the corn until slightly blackened. Roast for 15-20 minutes.
Cool corn on the cob. Using a large knife, carefully remove corn from the cob.
Gently combine roasted corn, mangoes and avocado in a large bowl with the juice of two limes. Season with salt and pepper to taste.
Spoon the avocado, mango, corn cocktail into 4 large glasses or serving bowls. Drape 5 of the hot shrimp over the edge of each glass or bowl and serve at once. Or for a cold shrimp cocktail, let the cooked shrimp cool to room temperature. Refrigerate the shrimp, covered, until they are chilled before serving them with the cocktail. The cooked shrimp can be refrigerated for up to 2 days.
Serves 4.
Information
Category

Seafood, Appetizers