Goat Cheese Biscuit Recipe
Goat Cheese Takes the Biscuit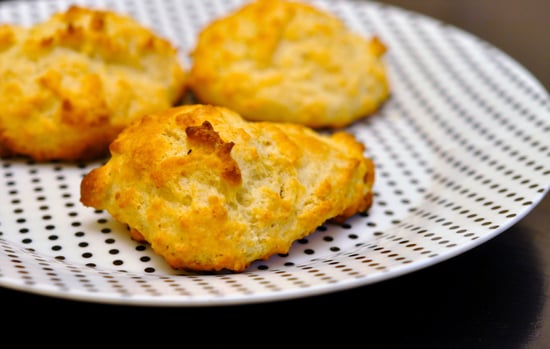 For a different take on the traditional dinner roll this Thanksgiving, try chef Art Smith's goat cheese biscuits; the recipe is a basic buttermilk drop biscuit that incorporates tangy and creamy goat cheese.
The recipe's incredibly easy, though I did make one change: The recipe called for coating the preheated cast iron pan in butter, but due to the heat, the butter nearly instantly turned a very dark brown, and smoked throughout my first batch. Since I didn't want my smoke alarm to go off for my second batch, I opted to use a peanut oil to ensure they didn't stick, but also didn't smoke. Ready to try a new take on a biscuit? Just keep reading for the recipe.
Ingredients
2 cups King Arthur self-rising flour
2 teaspoons baking powder
1/2 teaspoon baking soda
1 teaspoon salt
4 tablespoons (2 ounces) cold unsalted butter
4 tablespoons (2 ounces) goat cheese
1 cup (8 ounces) buttermilk
Extra butter or high heat oil like peanut oil to grease pan and top biscuits
Directions
Preheat your oven to 425 degrees F. Place one 10-inch cast-iron pan or griddle into the oven while it is preheating. Place flour, salt, baking soda and baking powder into a medium-sized bowl.
Cut in the butter and goat cheese. Make a well in the middle of the ingredients and pour in the milk. Stir until the mix is moistened, adding an extra tablespoon of milk if needed.
Remove the hot skillet from the oven and place a tablespoon of peanut oil into it. Drop 1/4 cupfuls of batter into the pan (use a muffin scoop to drop the batter if you have one). Brush the tops of the biscuits with melted butter. Bake from 14-16 minutes until browned on the top and bottom. Remove from the oven and enjoy warm!
Makes a dozen.
Information
Category

Breads, Biscuits
Are you a baker? Start sharing your recipes and food photos with the YumSugar Community! We might even feature your post.