Goat Cheese and Peach Salad
Discover Fenugreek With a Fast Peachy Salad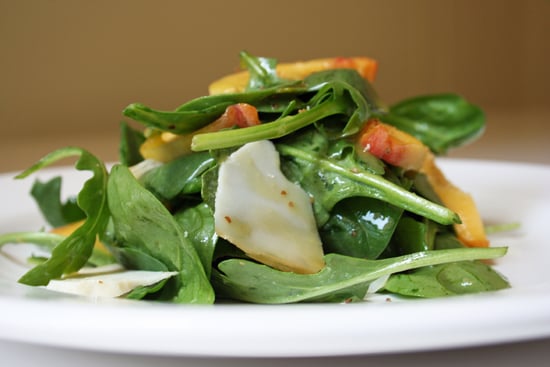 Fenugreek, a spice used frequently in Indian cooking, might easily be confused with similar-sounding fennel seeds, but the likeness ends there. Fenugreek actually has a maple scent and a caramel flavor. It's primarily used in curries, but I like to use it to season everything from pickles and chutneys to breads and soups. Recently, I used it to bring out sweetness in a warm-weather salad.
In this salad, fenugreek-studded cheese makes an appearance, adding contrast to tart greens that have been tossed in white balsamic vinaigrette. LaClare Farms makes an incredible aged, Gouda-style goat cheese with fenugreek that grates and shreds easily, so it's an ideal alternative to typical Parmesan used in salads. The fenugreek goat cheese, sweet peaches, and greens are a match made in heaven. Become a believer by trying the recipe for yourself.
Fenugreek Goat Cheese Salad
By Anna Monette Roberts, YumSugar
Ingredients
For dressing:
1 tablespoon Dijon mustard
1 tablespoon honey
1 tablespoon white balsamic vinegar
1/4 cup extra-virgin olive oil
Salt, to taste
For salad:
1 five-ounce bag mixed greens, or a blend of baby spinach and arugula
4 ounces LaClare Farms Evalon aged goat cheese with fenugreek, sliced on a cheese peeler
4 small ripe peaches, cut into thin wedges
Ground fenugreek, to taste
Directions
In a small bowl, whisk together Dijon, honey, and vinegar. Slowly dribble in olive oil while whisking vigorously to emulsify oil and vinegar. Salt to taste.
In a large salad bowl, combine salad greens and toss in dressing, one tablespoon at a time until leaves are lightly coated. Toss in cheese and peaches right before serving.
Divide salad between four plates and garnish with extra cheese and peaches. Sprinkle a pinch of ground fenugreek on top of each plated salad.
Serves four as a side salad.
Information
Category

Cheese, Salads

Cuisine

North American