Gourmet's Strawberry Pie Recipe
Get Your Final Fix of Strawberries With Strawberry Pie
The other day I was going on about wanting to make strawberry pie (I saw the recipe in Gourmet's June issue) when my friend interrupted me. She pointed out that sadly, strawberry season is almost over! Determined to make the pie, I headed to my local market in hopes of finding the last of the season's berries. Lucky me, they still had some left! This pie is sweet, delicious, and surprisingly easy to make. It takes time to set and chill, so make it the night before you plan on serving it. If you want to taste this pie, make it soon, before strawberry season ends. To check out the recipe,
.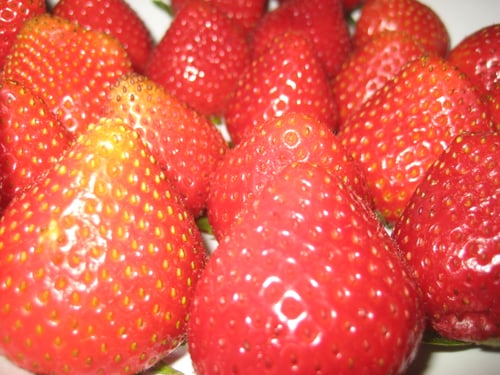 Strawberry Pie
From Gourmet magazine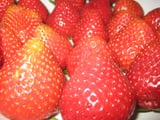 Ingredients
For crust*:
1 (5-oz) package shortbread cookies
2 Tbsp sugar
2 Tbsp cold unsalted butter, cut into pieces
For filling:
2 lb (1 1/2-inch) strawberries, hulled (see cooks' note, below)
3/4 cup sugar
1/3 cup fresh lemon juice
1 envelope unflavored gelatin (2 1/4 tsp)
Directions
Make crust: preheat oven to 350°F with rack in middle.
Pulse cookies in a food processor to fine crumbs, then pulse in sugar and butter until combined. Press crumb mixture evenly onto bottom and up side of a 9-inch pie plate. Bake until golden, about 15 minutes. Transfer to a rack to cool.

Prepare filling and assemble pie: select 20 large strawberries as close to same size as possible and set aside.
Cut remaining berries into 1/4-inch dice and toss with sugar and lemon juice. Let stand, stirring occasionally, 30 minutes.
Drain berries in a sieve set into a large glass measuring cup. Add enough water to measure 2 cups. Transfer liquid to a medium saucepan and reserve berries.

Sprinkle gelatin over strawberry liquid and let soften 1 minute. Bring to a bare simmer, stirring until gelatin has dissolved. Add diced berries then transfer to a metal bowl set into an ice bath and stir frequently until mixture begins to mound, 20 to 30 minutes.

Spoon 1/2 cup filling into piecrust and arrange reserved whole berries, stem ends down, on filling. Spoon remaining filling over and between berries. Chill pie until filling is set, at least 4 hours.
Makes 8 servings.
Make ahead: piecrust can be made 2 days ahead and kept (covered once cool) at room temperature. Filled pie can be chilled, loosely covered, up to 1 day. While not as dramatic as whole large berries, if you find juicy small berries, cut them into quarters or halves. It may take longer for mixture to set, but the pie will taste just as good.
*I prefer a thick crust, so I doubled the crust recipe.
Information
Category

Desserts, Pies/Tarts

Cuisine

North American