Government Introduces MyPlate
Government Replaces Food Pyramid With MyPlate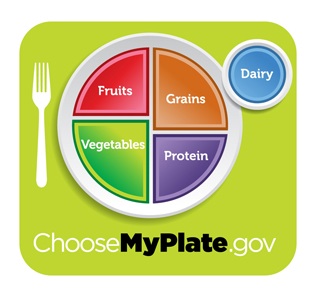 This morning, Michelle Obama and the US Department of Agriculture revealed a new symbol for a healthy American diet. The food pyramid, which has been around since 1992, has been replaced with MyPlate. The color-coded guidelines call for a fruit- and vegetable-heavy diet with grains and proteins consumed in smaller quantities. The government recommends that Americans switch to low-fat or fat-free milk, reduce processed and frozen meals as well as portion size, and opt for water instead of sugary drinks.
They emphasize that food choice is a personal thing, but that the correct choices need to be made. "Enjoy your food," the website says, "but eat less."
I try to eat as many fruit and vegetables as possible and don't drink sodas, so I'm on my way to meeting the standards set by MyPlate. How about you? What do you think of MyPlate?