Greek Chicken Wings Recipe
The Wide World of Wings: Lemon Pepper With Cucumber-Feta Yogurt Sauce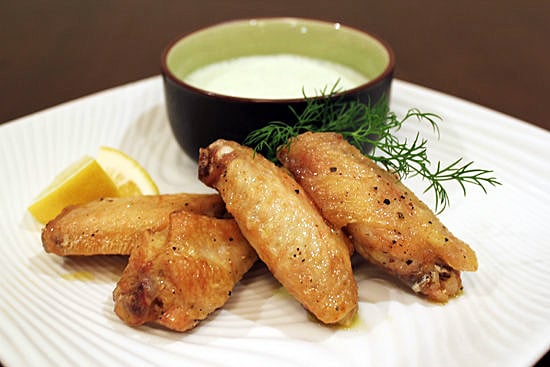 We close out our week of worldly wings with a recipe . . . with an accessory. While I love this classic finger food on its own, sometimes a cooling dipping sauce is just what the tailgater ordered to complement a piping hot and/or fiery chicken wing. Think about it: buffalo wings are divine, but when that Frank's RedHot sauce becomes too hot to handle, nothing quenches a mouth inferno quite like some blue cheese dressing.
While this recipe forgoes a spicy wing in favor of a tangy lemon-pepper vinaigrette, it's merely a vehicle for the velvety yogurt dipping sauce. Creamy feta and soothing cucumber serve to heighten the cooling sensation, making it a great addition to a wing buffet side by side with its hotter cousins. Get the recipe.
If you want to add more flavor and heat, consider adding some paprika and cumin to the vinaigrette.
Lemon Pepper Wings With Cucumber-Feta Yogurt Sauce
Adapted from Taste of Home
Ingredients
18 whole chicken wings
1/2 cup plain yogurt
1/2 cup chopped peeled cucumber
1/2 cup crumbled feta cheese
2 tablespoons snipped fresh dill or 2 teaspoons dried dill weed
1 garlic clove, peeled
Salt, to taste
2 tablespoons olive oil
1 tablespoon fresh lemon juice
1 teaspoon freshly ground black pepper
1 tablespoon flour (plus more, if necessary), for dredging
1 tablespoon cornstarch (plus more, if necessary), for dredging
Directions
Remove the tips of the wings and discard or save for making stock. Using kitchen shears or a knife, separate the wings at the joint. (See how to prep wings for appetizers.) Rinse wing parts under cold water and pat dry with paper towels. Lay wings in a single layer on a wax paper-lined baking sheet and place in the refrigerator (uncovered) for one hour.
In a blender, combine yogurt, cucumber, feta cheese, dill, and garlic. Process until smooth. Season to taste with salt, and pour into a small serving bowl. Refrigerate until ready to serve.
In a large, wide bowl, whisk together lemon juice, olive oil, black pepper, and salt (to taste).
Heat vegetable oil in a Dutch oven over medium heat. Remove wings from refrigerator and season on all sides with salt and pepper. Place about a tablespoon each of flour and cornstarch in a large clean plastic bag,

seal

, and shake gently to combine. Working in batches, drop a few chicken wings in the bag, and toss to coat with the flour mixture. Shake off the excess before dropping each wing into the hot oil, and fry until golden brown, turning occasionally, about five to seven minutes. Replenish the flour mixture in the bag as needed.
Transfer fried wings to a wire rack placed over a rimmed baking sheet. When wings are cooled slightly but still warm, toss them in the lemon vinaigrette and pile them on a serving platter. Serve alongside the yogurt sauce.
Makes three dozen.
Information
Category

Poultry, Appetizers

Cuisine

Greek