Greek Salad With Feta Cheese
Go Greek With This Salad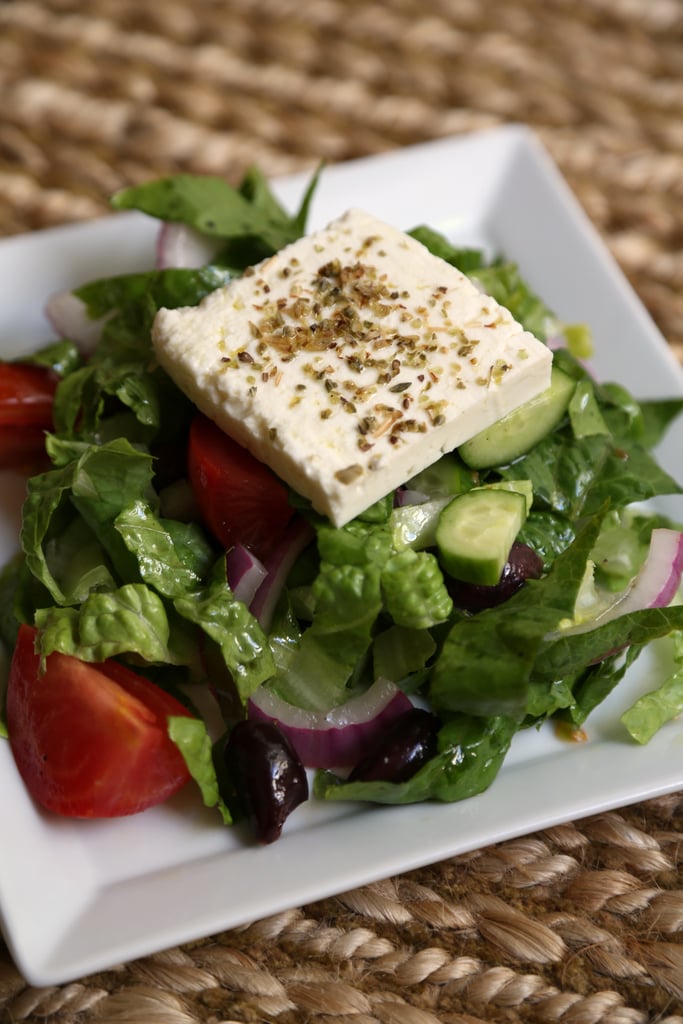 I liked but never loved Greek salads until I tried them in Greece. At the height of Summer, even the red onions are so sweet and tame, I could eat chunks of them like apples. I never met a mealy nor sour tomato, just tomatoes so ripe they didn't even need a sprinkle of salt to draw out their perfect flavor. And the feta. Can we stop a second to describe the crumbly, umami-filled feta, sliced ever-so-thinly and sprinkled with the most fragrant oregano that I can't help but imagine the restaurants plucked it from their backyard bushes?
While it has been four years since my last visit to Greece, the memories linger vehemently. I've tried my best to re-create and somewhat American-ize the recipe, so you can enjoy the salad at home.
Greek Salad
From Anna Monette Roberts, POPSUGAR Food
Ingredients
1/3 cup olive oil, plus more for drizzling
2 tablespoons red wine vinegar
Salt and pepper, to taste
4 cups romaine lettuce, shredded
4 small tomatoes, quartered
1/2 red onion, cut against the grain in 1/4-inch slices
2 Persian cucumbers, cut in half-moon, 1/4-inch slices
1/4 cup kalamata olives, pitted
4-ounce block of feta cheese packed in brine, cut into 4 slices
1 jar of dried oregano, for sprinkling
Directions
In a small bowl, whisk olive oil and red wine vinegar together. Add salt and pepper to taste.
In a large bowl, toss romaine, tomato, red onion, cucumber, and olives together. Add olive oil and red wine vinegar vinaigrette, one tablespoon at a time, until leaves are coated. Divide salad between 4 plates. Top each with a slice of feta cheese. Sprinkle each salad with 2 shakes of oregano on top of feta plus a small drizzle of olive oil. Serve immediately.
Serves 4 as a side salad.
Information
Category

Cheese, Salads

Cuisine

Greek