Greek-Spiced Baked Shrimp Recipe
Staff Favorite: Greek-Spiced Baked Shrimp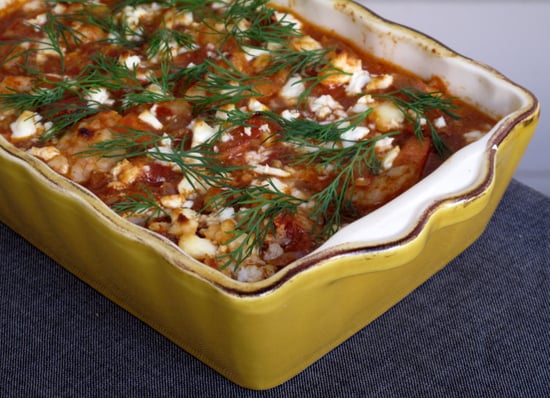 It's hard to believe that we've come this far and never gotten around to sharing one of our very favorite fast and easy dinners. If you enjoy seafood and tomatoes, then brace yourself, because once you make this Greek shrimp recipe, your life might just change forever. This dinner in under 60 has been the darling of just about everyone in our office, and for good reason.
Inflecting the tomato sauce with allspice, cinnamon, feta, and dill lends the dish a whole new kind of exoticism that you're bound to love when craving the spices of South Asian and Middle Eastern cooking. I like the allspice element so much that I double the amount that's called for and then offer it over a pile of lightly oiled orzo. Any way you serve it, this is good eating, and the recipe is right this way.
Greek-Spiced Baked Shrimp
From Gourmet
Ingredients
1 medium onion, chopped
2 garlic cloves, finely chopped
3 tablespoons extra-virgin olive oil
1/2 teaspoon hot red-pepper flakes
1/2 teaspoon ground cinnamon
1/4 teaspoon ground allspice
1 (28-ounce) can whole tomatoes in juice, drained, reserving juice, and chopped
Pinch of sugar
1 1/4 pound large peeled and deveined shrimp
1/4 pound feta, crumbled (2/3 cup)
2 tablespoons chopped dill
Accompaniments: crusty bread or steamed white rice; a green salad
Directions
Preheat oven to 375°F with rack in middle.
Cook onion and garlic in oil with 1/4 teaspoon salt in a 4-quart heavy saucepan over medium heat until softened, about 5 minutes. Stir in spices and cook, stirring, 30 seconds. Add chopped tomatoes with juice and sugar and simmer, uncovered, stirring occasionally, until slightly thickened, about 20 minutes. Remove from heat.
Season shrimp with 1/8 teaspoon salt, then stir into tomato sauce. Transfer to a 2-quart shallow baking dish and top with feta. Bake until just cooked through, 18 to 20 minutes. Serve sprinkled with dill.

Information
Category

Main Dishes, Shellfish

Cuisine

Greek