Greek Themed Dinner Party Menu and Recipes
Come Party With Me: Greek Dinner — Menu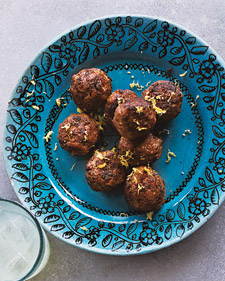 This Friday my sister and I are hosting our annual girls' getaway to the cabin. Every Winter, we grab our best friends and enjoy a leisurely couple of days in the mountains. The highlight of the event is Saturday wine tasting in Murphys. To make things more exciting, we've decided to give the whole weekend a Dionysus theme. Naturally, I'm cooking up a mouthwatering Greek dinner. We'll start with an assortment of mezes, including Greek olives, hummus and pita chips, meatballs with ouzo and mint, and crispy cheese-filled phyllo bites. Since the appetizers are a bit heavy, the main course will be on the light side: halibut roasted in grape leaves with a Greek country salad.
These recipes would also be wonderful at an Olympics viewing party, so check them out now, after the break.
Ingredients
2 slices day-old white bread, crusts removed
3 tablespoons ouzo
1/2 medium onion, finely chopped
1/4 cup extra-virgin olive oil, plus more if needed
1 pound ground beef (85 percent lean)
1 large egg, plus 2 large egg yolks, lightly beaten
2 tablespoons capers, rinsed and finely chopped
1 small garlic clove, minced
3 tablespoons finely chopped fresh mint
1/2 teaspoon dried oregano
1 1/4 teaspoons coarse salt
Freshly ground pepper
1 lemon
Directions
Tear bread into bite-size pieces, and place in a small bowl. Add ouzo. Let stand for 10 minutes to soak. Squeeze excess liquid from bread. Transfer bread to a medium bowl.
Cook onion in 2 tablespoons oil over medium heat, stirring frequently, until soft, about 6 minutes. Add onion to bowl with bread.
Add ground beef to bowl, and break up with your hands. Stir in egg and yolks, capers, garlic, mint, oregano, and salt. Season with pepper. Knead mixture until well combined, then use a spoon to stir until smooth. With moistened hands, shape mixture into 1-inch meatballs, and place on a tray. Cover, and refrigerate for 1 hour.
Heat remaining 2 tablespoons oil in a heavy skillet over medium-high heat, and cook meatballs in batches, about 12 at a time, turning until evenly browned, about 5 minutes. Add fresh oil as needed for each batch. (While you work, keep cooked meatballs warm on a rimmed baking sheet in a 200-degree oven.) Finely grate lemon over meatballs, and serve warm.
Makes about 50; Serves 6 to 8.
Information
Category

Meats, Appetizers

Cuisine

Greek