Green Apple and Butternut Squash Casserole Recipe
Easy Sunday Dinner: Green Apple and Butternut Squash Casserole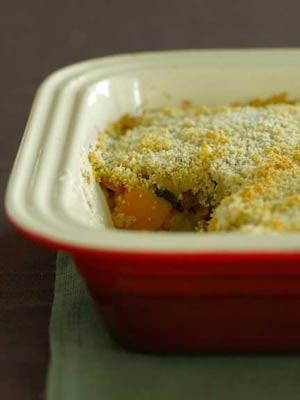 If you liked the unexpected pairing of butternut squash and panettone in a rustic Italian bread salad, then you'll love this unpredictable combination of squash with tart, bright green apples.
Skip the heavier, savory squash bread pudding or butternut-blended mac and cheese for a hearty meatless dish that also happens to be light.
Top the Winter produce pairing with pecans for added protein and a generous topping of bread crumbs to achieve a crisp crust. Want the recipe? Then read more.



Green Apple & Butternut Squash Casserole
From Whole Foods
Ingredients
Olive oil spray
3 tablespoons butter
2 tablespoons extra virgin olive oil
2 cups mushrooms, quartered
1 small butternut squash, peeled and cut into 1-inch chunks
1 stalk celery, chopped
1 small yellow onion, chopped
Salt and pepper to taste
1/2 cup bread crumbs
2 granny smith apples, peeled, cored, and roughly chopped
1 teaspoon chopped thyme (optional)
1/2 cup toasted chopped pecans (optional)
Directions
Preheat oven to 400 degrees F. Spray a medium baking dish with olive oil cooking spray and set aside. Melt 1 tablespoon of the butter and oil in a large skillet over medium high heat. Add mushrooms, celery, squash, onions and salt and cook, stirring often, for 10 minutes. Reduce heat, cover and cook for 5 to 10 minutes, stirring occasionally, until squash is just tender.
Meanwhile, melt remaining two tablespoons butter in a small pot. Add breadcrumbs, stir to coat and set aside. Add apples, thyme, salt and pepper to squash mixture and cook until apples are tender, 5 to 10 minutes more. Transfer squash mixture and any pan juices to reserved dish and sprinkle bread crumbs over the top. Bake until bread crumbs are golden brown, 10 to 15 minutes. For extra crunch, garnish with toasted pecans before serving.
Serves 6.

Nutritional information per serving: 260 calories (160 from fat), 18g total fat, 5g saturated fat, 4g protein, 23g total carbohydrate (4g dietary fiber, 7g sugar), 15mg cholesterol, 470mg sodium
Information
Category

Other, Main Dishes

Cuisine

North American